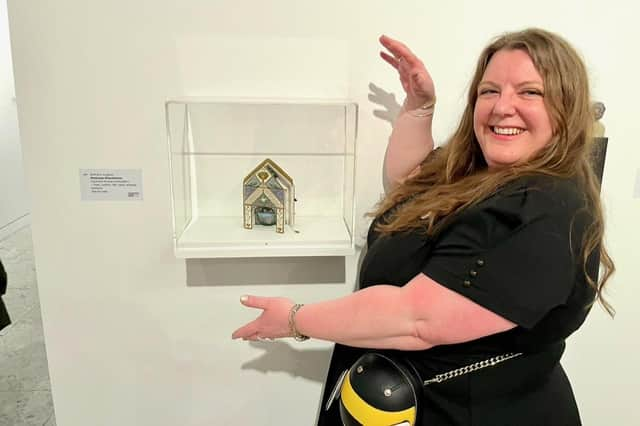 A 'Roman inspired' piece of work by Rugby embroidery designer Bethany Hughes has been selected from over 1,000 entries to appear in the Coventry Open exhibition at the Herbert Art Gallery and Museum.
Bethany describes the piece as "a fantastic demonstration of how a functional piece made using traditional techniques is also a work of art in its own right."
Inspired by ancient Roman domestic fountains found in Pompeii and Herculaneum, Bethany's 'Medusae Miscellanea' is a three-dimensional embroidered piece.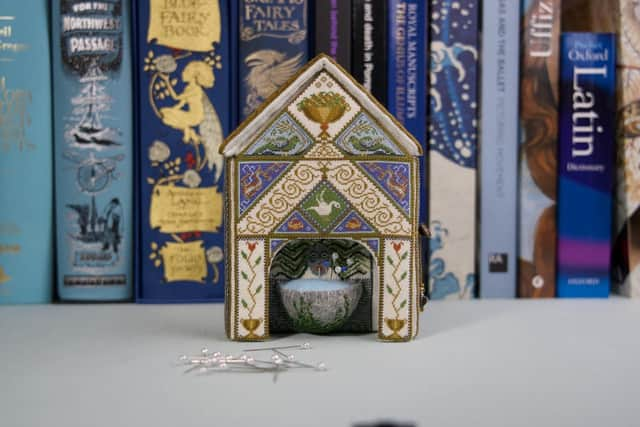 The fountain's basin is a pincushion, while its protective building contains pockets and accessories to hold scissors, needles, threads and other needlework essentials. Mosaic-style stitches cover the front, side and top back panels like glass and stone. The lighter stitches of the main back panel and the interior panels point to the brushstrokes of the delicate frescoes traditionally painted inside Roman villas.
Water-like thread pours from the mosaic stitches of the mouth of Medusa, spilling into and over the felt fountain basin and feeding the moss knots that creep up the stone work. The piece is topped with a roof stitched to look like the overlapping tiles that were typically used in Ancient Rome.
Bethany designed and made 'Medusae Miscellanea' using linen and cotton threads - she mounted each panel on acid-free card and stitched them together to create this six-inch high mini masterpiece.
Taught to stitch as a small child and now living in Rugby, Bethany studied landscape architecture at Edinburgh College of Art and later studied classical studies and art history through the Open University - this together with a childhood spent exploring historic gardens, museums and art galleries came together to inspire her whimsical, quirky works. Bethany now frequently shows her work at Rugby's newest arts venue - Alexandra Arts, affectionately known as 'The Alex' (https://artatthealex.blogspot.com/).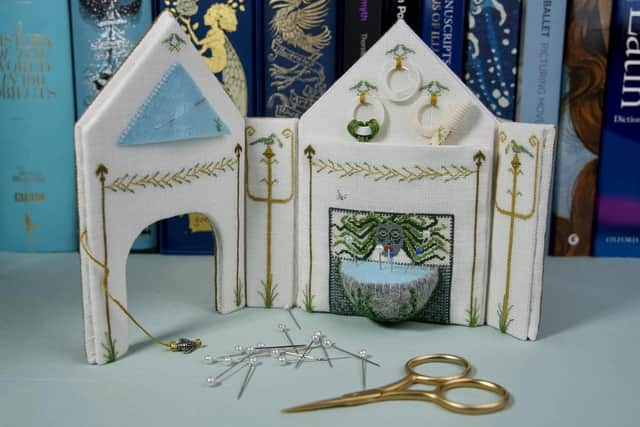 If you're interested in learning more about counted thread embroidery or already stitch and would like a new challenge, Bethany will be running a workshop course with a brand new, exclusive design from 10am-12pm Saturday April 15 at the Alex on James Street. Visit bluecoppice.com for more details or contact Bethany on [email protected]