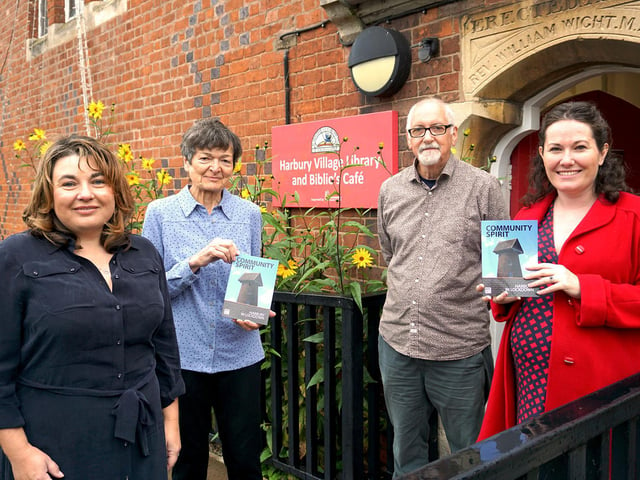 Parish Cllr Julie Balch, Sharon Hancock (chair of Harbury Village Library), Richard Fowler (volunteer library lead and Holly Daffurn.
Experiences of community spirit by Harbury villagers during the Covid-19 lockdown have been recorded for future generations, thanks to a new book.
Residents have put together prose and poetry to tell their story of how they all came together during the hard times.
The book, titled Community Spirit - Harbury in Lockdown, is part of a wider arts project by 'Live and Local: Livingroom', in conjunction with communities across Warwickshire, created in response to the Covid 19 pandemic. The project pairs ten local communities with professional artists from a range of backgrounds to undertake collaborative and creative projects.
Parish Cllr Julie Balch and Sharon Hancock, chair of Harbury Village Library
The Harbury project, which has been coordinated by professional writer and poet Holly Daffurn, has culminated in the production of a bespoke book of prose and poetry written by members of the community.
The book was unveiled at an event at Biblio's Café at Harbury Village Library on Wednesday September 30.
Julie Balch, Harbury parish councillor, who received the first copy of the book at the launch event, said: "It's been wonderful to read about everyone's experiences during this strange time, and we are delighted that the book with interviews and poetry by members of the village will now be kept for posterity for future generations to enjoy and learn about how the village coped with the coronavirus pandemic."
Dionne Sambrook from Live and Local, the organisers of the project, said: "There are so many wonderfully creative people and fascinating stories within our communities across Warwickshire, it's great to be able to continue bringing an engaging arts experience to people during these challenging times and to share the stories of our varied communities.
"The enthusiasm of the 10 communities and the creativity of the artists has presented really exciting creative possibilities throughout this project."
Sharon Hancock, chair of Harbury Village Library, said: "The library is a focal point in the village for so many creative activities, so we are pleased to have been chosen to take part in this project."
The original interviews and text will be held in the village's Heritage Centre as a historical record of both the project and people's experiences during the Covid 19 pandemic.
100 copies of the book will be given out to organisations in the village and to each person who has contributed their lockdown story.