Michael Davies, 59, has worked on newspapers across the country, including in Rugby and Stratford-upon-Avon – but has always enjoyed working on other projects.
And since stepping back from his most recent newsroom role in Stratford in 2021 to relocate to Lancashire, he has turned his hand to a range of other writing, including his first solo novel to mark the centenary of best-selling author Desmond Bagley.
He previously worked on a posthumous Bagley novel, Domino Island, which was published in 2019 after being discovered as a first-draft manuscript in the Bagley archive.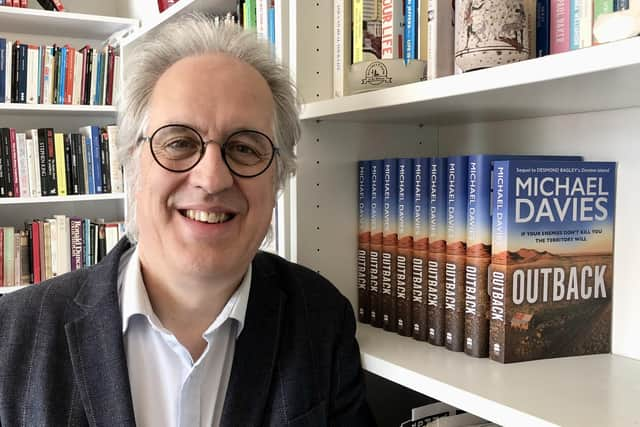 Now he has written a sequel featuring the same protagonist, Bill Kemp, in an original new adventure set in Australia.
Outback honours the legacy of the multi-million-selling thriller writer, who travelled the globe for his meticulous research and wrote 16 bestsellers between 1965 and his death in 1983.
Mr Davies said: "It was a huge privilege for me, as a lifelong Bagley fan, to be invited to work on Domino Island.
"Now, to mark his centenary, I am thrilled and delighted to have created an original sequel featuring a hero I feel I know extremely well.
"It's been a real joy giving him new dangers to face and new foes to tackle."
Outback takes Bill Kemp – described by renowned American author Jeffrey Deaver as "part James Bond, part Philip Marlowe, and all hero" – to an opal mine deep in Australia's remote interior, where he faces an unknown enemy even more deadly than the vast, forbidding wilderness and the blistering Australian sun.
It's published on Thursday, May 11, in hardback, ebook and an audiobook edition narrated by Mr Davies himself.
HarperCollins has already commissioned a third Kemp novel, Thin Ice, scheduled for release in 2024.
The publisher owns the entire Bagley back catalogue after publisher of estates David Brawn acquired the rights at the same time as striking the deal for the new novel.
Brawn said: "Bagley was a fiercely intelligent and inquisitive storyteller, who travelled the world researching his innovative international thrillers.
"And to be able to mark the author's centenary with a celebratory novel set in one of the few countries Bagley didn't get to visit and write about before he died is a pure pleasure.
"Michael Davies has written a remarkable debut that captures the essence of a Desmond Bagley novel and reminds us just what a pleasure these books are to read."
Bagley was born in Kendal in 1923 but moved as a youngster with his parents to Blackpool, where they ran a theatrical boarding-house. He worked as a printer's apprentice and aircraft engineer, but after the Second World War he travelled overland to South Africa, where he tried his hand as a mine worker, nightclub photographer and radio scriptwriter.
On returning to the UK in the 1960s, he began writing fiction, becoming one of the world's most respected thriller writers over the next two decades.
Five of his stories have been adapted for film and television, including The Mackintosh Man, a 1973 Cold War spy thriller directed by John Huston and starring Paul Newman, based on the novel The Freedom Trap.