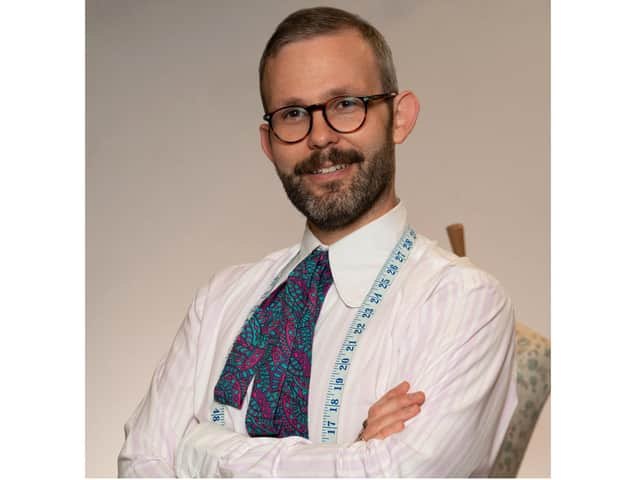 Mark Francis from Kenilworth is on The Great British Sewing Bee. Credit: BBC/Love Productions/Mark Bourdillon
A multi-talented man from Kenilworth who only started sewing just over three years ago is now showing his skills to the nation.
Mark Francis is currently representing the town as a contestant on BBC One's The Great British Sewing Bee (GBSB).
The 42-year-old is a personal banker by day, a pianist by night and started sewing in October 2016.
He wanted to sew as a young boy, but said he never had the confidence. He learned basic skills at the local haberdashery and now sews vintage inspired menswear for himself, his husband and dogs.
Mark, who has a love of big collars and cuffs with inspiration taken from Dr Who costumes, said: "It was my husband, Clive, who started my GBSB application, but we finished it together.
"I never thought I'd actually get on the programme, it still feels quite unreal."
Describing his experience on first walking into the sewing room on this year's Sewing Bee, he said: "It was a very magical and surreal moment when I walked into the sewing room for the first time, I couldn't believe I was there. It was just how I imagined it, stuffed full of lovely fabrics and all things haberdashery.
"I was most worried about the Transformation challenge, as this is something I had never attempted before and I didn't really know how I could prep for this. I had always worked from patterns, either ones I've bought or drawn myself.
"The transformation round was completely out of my comfort zone."
Talking about his best and worst moment that first week. Mark said: "The hardest thing that first day was learning everybody's names!
"As far as the challenges were concerned, I wanted to learn from it and most of all, to enjoy it.
"The time pressures were tough to get used to. At home you can take as much time as you like, but in the sewing room it's very
different. I thought the most important thing was to finish the garment. If it's not finished the judges will leap on that.
"The best feeling was getting the first garment made, finished and on the mannequin.
"That was a really good feeling, to have got the first one finished.
Describing his own style, he said: "I'm quite vintage in style, but eclectic too, and might seem an eccentric dresser some days.
I make more and more of my clothes now. The more things I learn to sew, the less inclined I am to buy them from the shops.
"The exception is vintage clothing which I love too.
"If you have a yearning to make something but don't feel confident you can, then just do it. You'll be surprised what you can do. Believe in yourself and give it a crack. I made things on GBSB that I thought was way out of my ability but always ended up making a fairly decent garment.
So how difficult was it to keep a secret that you were going to be on the show?
"The secrecy was super difficult," said Mark.
"I just wanted to tell everyone, but of course I couldn't. My husband, Clive, was super proud and wanted to broadcast it to the world. "It's so nice now I can talk about it a little more.
"My mentors have been Jules Fallon whose sewing classes I attended and my husband Clive, who has always been endlessly supportive of my drive and passion to learn this craft."
The Great British Sewing Bee started last Wednesday (April 22) and will be screened every Wednesday at 9pm on BBC1.