Don't miss Snow White and her Ninjas as Rugby Theatre counts down to panto opening night
Tickets are selling fast for the much-anticipated return of Rugby Theatre panto this week – with a new twist on an old favourite.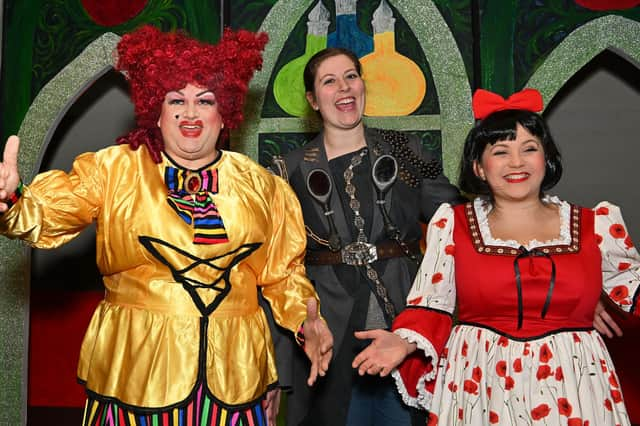 The finishing touches are being put in place ahead of opening night this Friday, January 20, on their Henry Street stage.
It is a special moment as the pantomime is back after three years, offering the familar elements of slapstick, comedy and fun for all the family, in a totally new script – Snow White and the Seven Ninjas.
The show runs from this Friday to Sunday, January 29, with a day off on the Tuesday, January 24 – some shows have already sold out so the message is to get your tickets soon rather than miss out.
Director Emma Bright has given a sneak preview of what to expect: "Rugby Theatre is back with the fairest panto of them all – Snow White, who this year is helped in her adventures by seven fearless ninjas.
"But we need your help to defeat the evil Queen's plans…"
There will be spectacular scenery, colourful costumes and a marvellously messy baking scene, with the stars including disastrous dame Wendy Wibble Wobble, brave Snow White and her unlikely crew of ninjas, plus plenty of baddies to boo and hiss.
The adult cast are joined by children from the Carrie Bianco Stage School, providing the dance routines.
The script is by Rugby Theatre member Kevin Bright – and Snow White will be the society's first panto since January 2020, following closure for the pandemic and then refurbishment of the bar and facilities.
Emma added: "This is a must-see for all the family, with all the usual fun and frolics – shouting, booing, clapping and singing along.
"Will Prince Hamilton get his girl? Will the celebration cake be baked on time? Come along to Rugby Theatre between January 20-29 to join in the fun and help us save the day."
Weekend matinees have largely sold out at the time of going to press but there are still seats to be booked at other performances, with discounts offered on weekday evenings.
Tickets are available from the theatre box office on 01788 541234 or go to: www.rugbytheatre.co.uk