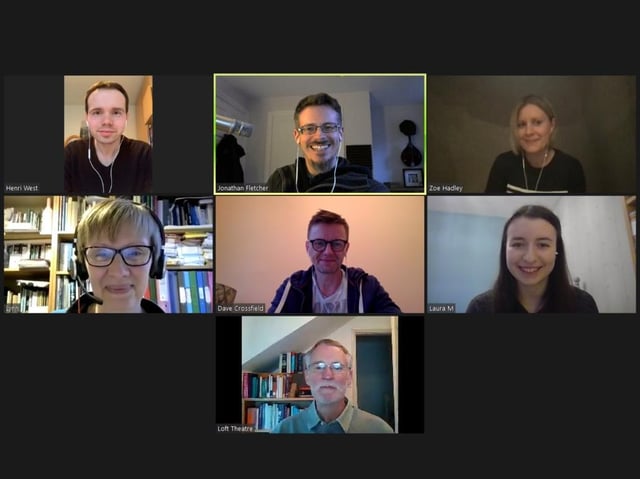 The cast of The House with the Mezzanine
The House with the Mezzanine is the latest audio drama by The Loft Theatre Company. It is a fairly literal adaptation by David Fletcherof a short story of the same name by Anton Chekhov.
As often with Chekhov, the subject is the state of Russia in the late 19th century, when the conditions that led to revolution were becoming unbearable. Nikolai (Henri West) is an artist, wasting his time somewhere in the Russian countryside, yearning for meaning but hampered by disbelief that Russia can ever change. His friend Pyotr (Dave Crossfield) is one of the landowning class who pretends to work but really does nothing. Each is stuck in a quagmire of indecision.
Their neighbours are the Volchaninova family, three women who take a different approach to their roles as local gentry. The leading figure is the eldest daughter, Lydiya (Zoe Mortimer), a pragmatic woman of great passion but little imagination who has thrown herself into improving her community through education and medicine. She despises Nikolai for his indolence, and he falls in love with her romantic younger sister, Zhenya (Laura McQuiggin). In the face of such powerful characters the mother, Katerina (Lynn Fairbairn), doesn't stand much of a chance, and it is left to Lydiya to bring the story to a tragic end.
The House with the Mezzanine provides good material for drama, and The Loft treat it with respect. They are to be commended for their commitment to audio drama. The acting, I have to say, was a little flat. Better use of light and shade, rhythm and pauses would have helped. The genius of this production lies in the original writing which provides many of the lines in this earnest, faithful reproduction.