Let's cut to the chase – this is a remarkable achievement by Rugby Theatre.
Many years ago I headed to the Belgrade hoping none of my friends would find out I was going to review The Fifteen Streets, based on a Catherine Cookson book.
You can probably guess the rest… rather than being the low point of my career, it proved to be a wonderful piece of theatre.
There was something of that spirit as I counted down to Saturday's opening night of Aspects of Love.
The big hit, Love Changes Everything, is utterly irresistible but I've never really bought into the Lloyd Webber vibe.
But yet again the night turned out to be a memorable one – thanks to Rugby Theatre showing its strength in depth in every element of what it takes to put on a show.
For fellow Aspects virgins, this is not all big song and dance numbers but a complex work sung throughout with a small cast – and very, very wordy.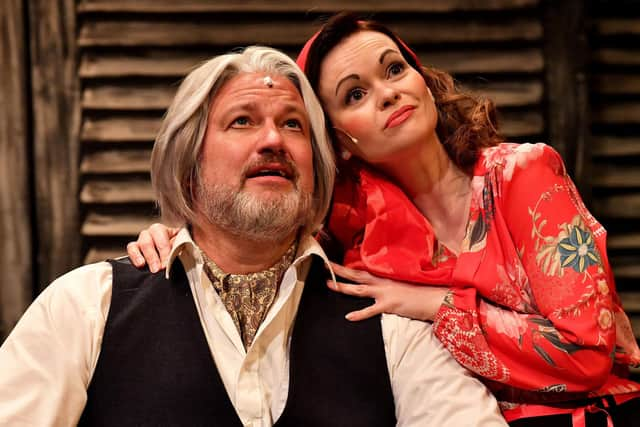 It's a period piece set across 17 years and the aspects of love are many and varied as we see how the lives of our main characters are linked over this time.
As director David Allen recognises in his programme notes, it's a challenge that is not often taken on by amateur groups and it speaks volumes of the talent in the Rugby Theatre orbit that they can carry it off.
The key set works so well, the costumes capture the differing times and moods, while the band under the musical direction of Richard Dunster-Sigtermans never falters with the variety of challenges Lloyd-Webber throws at them – tackling emotions galore with ease, none better than in the big, bold Hand me the Wine and the Dice.
There are many twists to the tale and key to it are George and his nephew Alex – their relationship given an extra ingredient here by the inspired casting of father and son Steve and Luke Bingham.
Rose is entwined with them both and Gracey Spring gives one of those performances that will live in the memory for a long time as she charts her way through those rollercoaster 17 years, not just a wonderful voice but also a delightful presence and subtlety.
Hayley Glover as Giulietta Trappani – the only character with a second name – is also key to the action and brings star quality to it, another exceptional singer.
In the supporting roles there was much to cheer as well, with a good mix of established members of the company and others at the start or early in their Rugby Theatre careers.
One lovely touch is the message in the programme from Laura Pitt-Pulford, a past member at Rugby, who is playing the role of Rose in the new version of Aspects that opens in the West End next month.
Her success is a reminder of the quality of work that has been happening in Henry Street for many years now – and Aspects is a proud addition to that fine tradition.