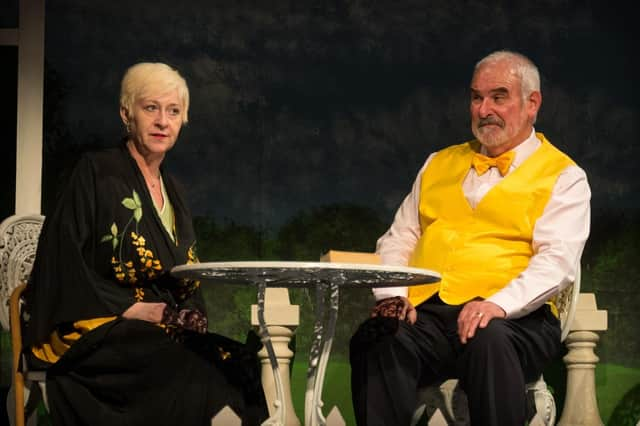 Performed at the Priory Theatre, Saturday May 20, 2023.
Retirement homes are sometimes viewed as God's waiting room, with the residents waiting passively for the Grim Reaper. But not all of them are going to go quietly into that good night. Diana had lived a full and active life as a war correspondent.
Sarah Hubbard wonderfully portrayed Diana's combination of cynicism, scepticism and feistiness, mentally active but let down by an aging body. Her humorous relentless cynicism was the basis of the narrative and the clever script is a tribute to the playwright.
Diana was joined in Bayview Retirement Village by new resident Tom [Priory stalwart Stuart Lawson], who perfectly complemented Diana's desire to fight the fading of the light. They had excellent chemistry and superb timing in the delivery of their lines as they battled the authoritarian manager Harvey [Mike Tildesley], who epitomised the ageist attitudes that we fear are prevalent in care homes and the NHS.
Jane Edwards gave a first-rate depiction of Karen, assistant to Harvey, as she persisted in being doe-eyed with her unrequited affection despite his gaucheness.
Paul Sanders was very convincing as Tom's nephew, the naïve dullard Geoffrey.
The cast and crew, under Anita Dalton's direction, delivered a flawless performance.
Particularly clever was the backlit projection as Diana's niece Sarah [Rebecca Tildesley] gave birth.
This production had 18 scene changes and numerous changes of costumes, which The Priory crew performed with their usual slickness. The music between scene changes enhanced the overall production.
It is almost 30 years since the series Waiting for God ended. However a very enthusiastic almost full house, some of whom would have been relatively young when the series was current, enjoyed this very accomplished performance. It showed that reprising sitcoms continues to be popular, especially when done as well as this.