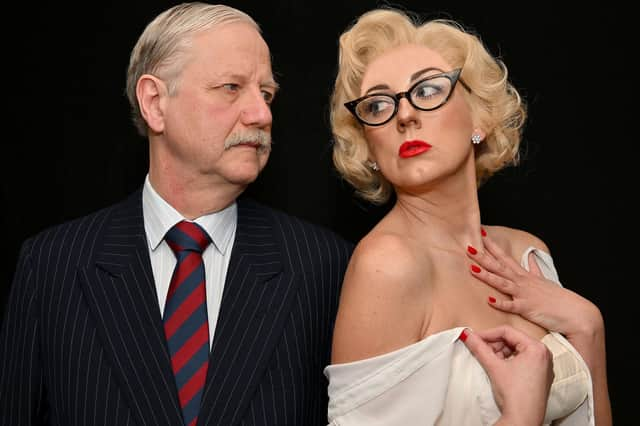 There are few people who love a good quiz who don't know the name Ruth Ellis.
But the number of people who lived through the drama of her trial end execution is undoubtedly reducing – her general knowledge fame as the last woman to be hanged in Britain telling little about her story.
And this is where The Thrill of Love proves such a vital piece of work.
Rugby Theatre has a fine track record of taking on significant challenges, alongside the obvious crowd-pleasers – and while first-time director Wendy Kay tells in her programme notes that this should have run in autumn 2020, covid delays have worked in its favour.
Firstly, this run allows it to embrace International Women's Day on Wednesday, March 8 – and it also follows soon after Tory MP Lee Anderson unexpectedly triggered fresh debate over the issue of capital punishment.
Those twin strands are powerful and incredibly relevant. The play is firmly a period piece and doesn't seek to leap about to embrace current perspectives.
The set, the costumes, the Billie Holiday music and the impression of a swirling London smog, all conjure up what those who weren't there at the time, believe the 1950s in London was like.
And it is against this backdrop we can reflect on a world where things were in favour of the old white men of the day – while those who eventually put an end to the death penalty were totally justified.
So, yes, it's a thought-provoking piece and will engage your brain well beyond the two hours, including interval, it lasts.
But what a two hours that is. We start with the crime and then DI Jack Gale, played with a certain charm and compassion by Keith Norfolk, peels back the layers of how we got to the shooting that secured Ruth's place in history - seen through the four women whose lives are revealed.
They each bring a different character to the tale and the superb casting surely captures the intent of writer Amanda Whittington.
Melanie Lee is terrific as the nightclub manageress who's been through it all time and time again, Charlie Lewis shows real heart as charwoman Doris Judd and Kezia Hine sparkles as model and actress Vickie Martin.
But, ultimately, the complex story stands or falls on who takes on the key role – and in Emma Marshall we are offered theatre as it should be, able to totally believe that for those two hours we in the company of Ruth Ellis.
We see the look of a Marilyn Monroe or Diana Dors, whose name was often mentioned as moving in similar circles, but in Ruth we see the how a different kind of fame eventually found her.
She's fun, flirty, talented – but also incredibly vulnerable and a victim.
It would be so easy for this to become a caricature of blonde bombshells of the 1950s but Emma never falls into that trap and gives us someone who shines through as a real person.
Certain performances live long in the imagination – and we now have another to treasure.