And eagle-eyed audience members will spot that the cross-generation battle over the role of rock music in a respectable education is given a special edge with numerous parents and offspring in the cast.
The musical contains catchy hits from the original film, plus 14 new songs by Andrew Lloyd Webber and lyricist Glenn Slater.
It has toured to great acclaim as a professional show but Rugby Theatre will be one of the country's first amateur venues to perform it.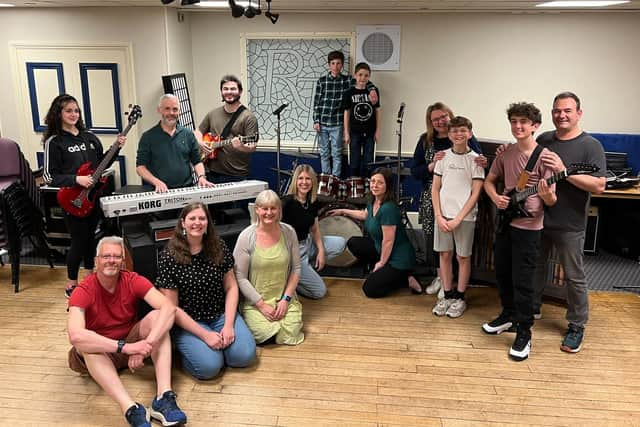 Black gives an iconic performance as Dewey Finn, a down-and-out wannabe rock star, who tries to earn a bit of extra cash by posing as a supply teacher at a prestigious school.
The film proved an irresistible hit as he turns his class of straight A pupils into a rock band and tries to get them to a Battle of the Bands event without the headmistress and parents finding out.
That spark is at the heart of the version developed for the stage and director Kenny Robinson sees it as a landmark production for the Henry Street venue.
He said: "One of the things that really excites me is, at first when I saw the logo for School of Rock, I was hoping it was just going to say School of Rock.
"But as they've released it now, it's called Next Generation School of Rock.
"And I've only just realised how poignant that is for our production because of the cross-generation involvement in the show.
"If I look at my cast list, we've got five children with a parent also in the cast - and even more whose parents are involved behind the scenes."
"So there really is this sense of, for want of a better expression, if not handing over to the next generation, at least bringing the next generation on and giving them a love for theatre and for live performing."
And he said there was a very apt message in the performance: "It's not just about kids learning rock and roll. It's about kids being heard, adults accepting that kids have a voice - and that their voice is valid."
As well as an adult cast, the show stars two teams of youngsters aged between ten and 14 as the school pupils, with band members playing their own instruments live on stage.
The role of Dewey is also shared, with Matt Watson and Will Neale performing the part over the musical's 14-show run.
Kenny added there have been challenges and opportunities galore: "We've got some people in the cast who are incredible musicians, but who have never been on a stage before and the thought of delivering a line absolutely petrified them.
"And then we've got people who've been on stage and in dance schools and we said to them, 'We want you to learn an instrument as well, because we think you're capable'.
"So there's been a lot of challenge for everyone but it's sounding great."
It runs from June 9-18, with matinee performances at weekends.
Tickets are available from the theatre box office on 01788 541234, or via the website.