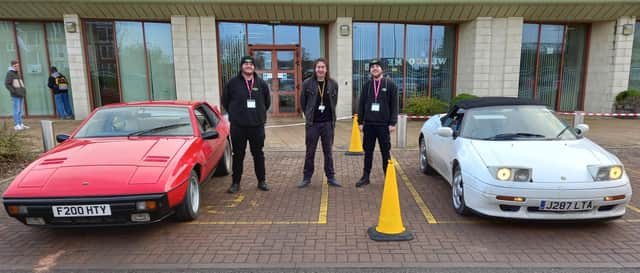 Heads were turned when two former students at Rugby College pulled up in classic Lotus sports cars to inspire the next generation of mechanics.
Archie Hewett and Joe Brown, who both work for Lotusbits in Marton, took the time to speak with students on the motor vehicle courses.
The pair spoke about their journey to employment, how the skills they learned in college have transitioned to a real-world environment and answered questions about the Lotus Excel and Lotus Elan Turbo which they brought to the talk.
Archie and Joe both studied on the Level 3 motor vehicle course together at Rugby College and left the college last summer after completing a three-year course.
Joe, 20, from Rugby, was named motor vehicle student of the year at the college in 2022.
As a result of an opening shared by the college, Joe gained employment with Lotusbits and started working full-time after completing his course.
Archie, 20, spent time working at another garage after college but when his friend Joe got in touch with another opening at Lotusbits, he jumped at the chance. Archie secured an interview and started working in the parts department.
Archie said: "We're really happy with how the day worked out and we hope we inspired the students to see what they can go on to achieve."
Mike Wakeleigh-Jones, motor vehicles course manager at Rugby College, added: "They really captured the attention of students, particularly when they were parked up outside the college!"