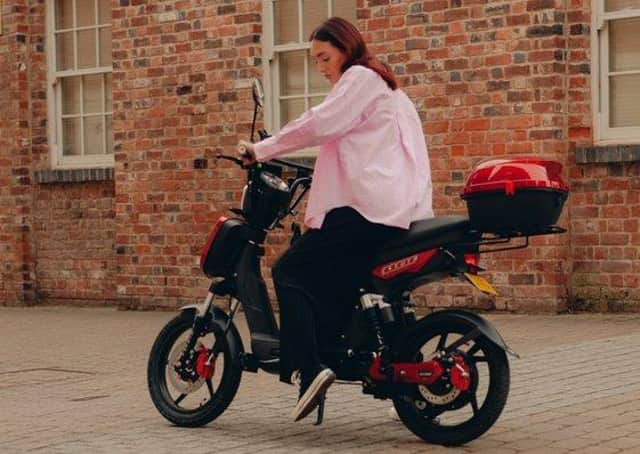 An award-winning Nuneaton company is helping people get back in the saddle and into work with its revolutionary electric bike that looks like a motorcycle.
Eskuta has become the UK's market-leading e-cargo vehicle manufacturer and supplier and is working with fast-food delivery firms with its hire to own scheme.
The firm, which now has two units at Warwickshire County Council's Bermuda Park Innovation Centre, designs and manufactures electric bikes and scooters.
Ian O'Connor launched Eskuta in 2015.
The firm has gone from strength-to-strength, producing thousands of orders for happy customers.
Ian started the business after becoming disillusioned with the fashion industry and discovered e-bikes and e-scooters when he was in China.
"I saw e bikes were everywhere, predominantly China, and I wondered why they weren't prevalent in the UK and the rest of Europe," he said.
"I looked into that whole market, found a manufacturer, we developed the product and started on our journey."
Ian said the SX-250 appeals to a wide range of individuals, from young people over the age of 14 who are not yet able to drive but want the freedom of an electric bike, to older customers who want a comfortable mode of transport for short distances.
He added: "This popularity is testament to the fact that electric mobility is becoming more and more mainstream, and it is a trend that is only set to grow going forward as we look to make the switch to electric vehicles and reduce carbon."
The SX-250 series III comes in a range of eight colours and is also available in a delivery model which can be custom branded. Eskuta's delivery partners include takeaway giants, Just Eat, Domino's, Papa Johns and Subway as well as hundreds of smaller takeaway and convenience stores around the UK.
Every bike is delivered fully assembled with an immobiliser and alarm fitted as standard by an Eskuta driver, who also gives a full demo on delivery. The SX-250 series III personal model and the SX-250 delivery model are available to order now here. The personal model costs £1,795, while the delivery model will set buyers back £1,995.