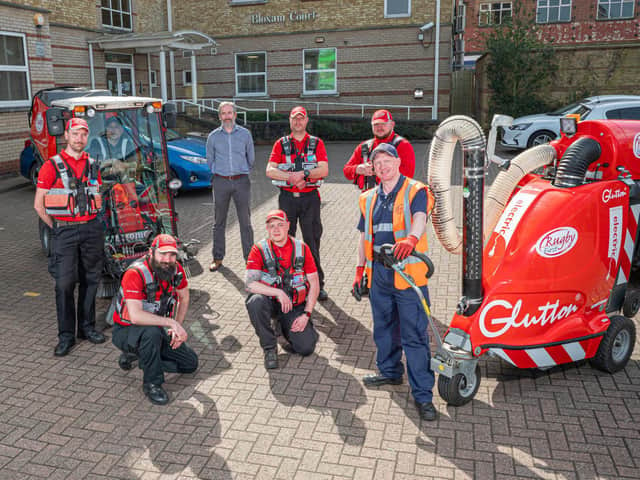 Rugby First staff celebrate the result.
Rugby s town centre rangers and street cleaners are among the staff who will be able to continue their work for another five-year term, following a successful ballot.
Businesses in the town centre have voted to back Rugby First Business Improvement District (BID) for another five-year term.
This gives Rugby First a mandate to continue to provide their services, which include CCTV, town rangers, cleaning, marketing and event services and will bring an estimated £4 million investment into the town centre.
For any BID ballot to be successful, there needs to be a majority of businesses in favour, both in terms of number of votes cast and by rateable value.
And in this latest ballot, in a 32 per cent turnout, 136 votes were cast in total, with 107 in favour and 29 against.
That means 79 per cent of businesses taking part voted in favour of the Rugby First BID, with an Aggregate Rateable Value of 90 per cent.
Alistair George, Chairman of Rugby First Board said: "We are delighted to announce we have succeeded in securing the votes required to enter into a new five-year term, which will
commence on Thursday, April 1.
"We would like to say a massive thank you to all of our levy paying businesses for their continued support, especially during what has been a very challenging year.
"As we emerge from the pandemic we are really excited about working together as a business community to face the challenges ahead, deliver our five-year business plan and ensure a bright future for the BID area."
Operations director Rich Warren added: "I'd like to thank the Rugby First team who work tirelessly to keep the town centre a safe, clean and welcoming place.
"We have been providing key services for the town centre since 2005 and we are very proud to play our part in attracting shoppers and visitors to Rugby, which help to boost the town centre's economy."
The vote was administered independently by Civica Election Services and ballot papers were received and returned by post.
The result of the vote was announced by Aftab Razzaq, Returning Officer at Rugby Borough Council, on Friday 26 March.