A Rugby musician who was awarded the British Empire Medal for his services to the community during the coronavirus pandemic, has received a Royal invitation to the King's Coronation.
SaxMan Steve Ray was awarded the BEM in Her Majesty's Birthday Honours List in 2021.
He played to communities and kept people in the borough smiling throughout the coronavirus pandemic.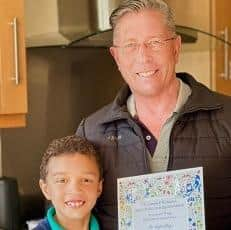 Now the excited dad is off to London at the weekend to join thousands of other guests for the coronation celebrations.
Steve, who is married to Barny, said he was 'humbled' by the invite.
He said: "This came as a special invitation and it is absolutely welcomed by us.
"It's an honour and we're very humbled."
He added: "Our apologies for the street parties that we've had to turn down, but we look forward to seeing everyone for parties scheduled for May 7."
Barny said: "Steve is excited and anxious as the same time.
"He met the Queen years ago as a little boy in Scotland, so being able to see the King at his coronation will be remarkable."
The couple said their youngest son, Oliver, was so excited by the Royal invitation, he took it to school to share with his teachers and classmates.
Barny added: "From something that started as simple as playing a tune to his mum at her front door during the pandemic to this, is simply amazing and humbling."