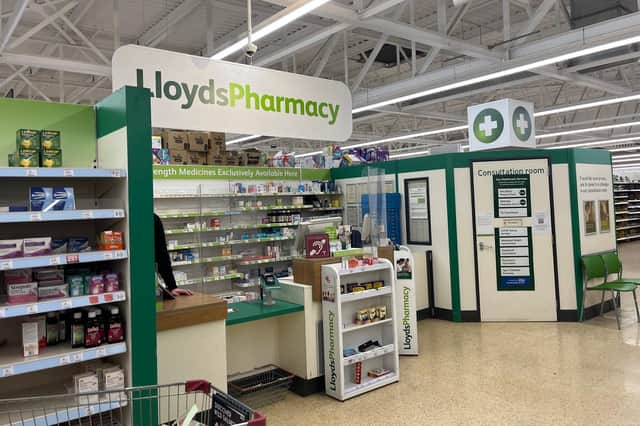 Lloyds has confirmed it is pulling out of its 237 pharmacy sites within Sainsbury's stores following a strategic review, while keeping its high street branches open.
It blamed "changing market conditions" for the decision, adding that it is "exploring options" for each individual branch.
It said it will confirm its exact closure plans on a "branch-by-branch" basis, but it expects to complete the process over the course of 2023.
The Lloyds at Rugby Sainsbury's has always been popular for the flexibility it offers in terms of its opening hours and that was also evident during lockdown.
When the pharmacy in Bilton, among others, faced huge pressure and people queuing up the street, many switched to Sainsbury's in a bid to avoid the lengthy waits.
Lloyds Pharmacy said it is working with all colleagues impacted by the announcement but has not yet disclosed how many workers will be affected.
CEO Kevin Birch said: "This decision has not been an easy one and we understand that our patients and customers may have questions about how the change will affect them.
"We would like to thank them for their continued support and assure them that we are committed to providing a smooth transition over the coming months. I am very grateful to all our colleagues for their dedication to our patients, customers and communities."
The decision comes seven years after it snapped up the pharmacies from the retailer for £125 million. It runs around 1,400 pharmacies across the UK.
A Sainsbury's spokeswoman said: "Lloyds Pharmacy is withdrawing pharmacy services from our stores over the coming months. We will work with them to ensure customers are clear on how they can access an alternative pharmacy provision to meet their needs."
The news comes amid growing pressure on the UK pharmacy sector.
Nigel Swift, deputy managing director at pharmacy group Phoenix UK, said: "This announcement is the clearest possible sign of the dire situation facing community pharmacy in England as a result of insufficient government funding.
"Since the start of the pharmacy contract there has been a massive cut in real-term funding resulting in hundreds of closures. This has to be a wake-up call for government."