Creative students at Avon Valley School in Newbold have designed a unique flag as part of a national competition.
A group of Key Stage 3 students who are members of the school's geography club have worked together for their entry in the UK Polar Network competition.
The year eight students were taught about Antarctica, Earth's most southerly and least populated continent, by geography teacher, Kaylee McHale.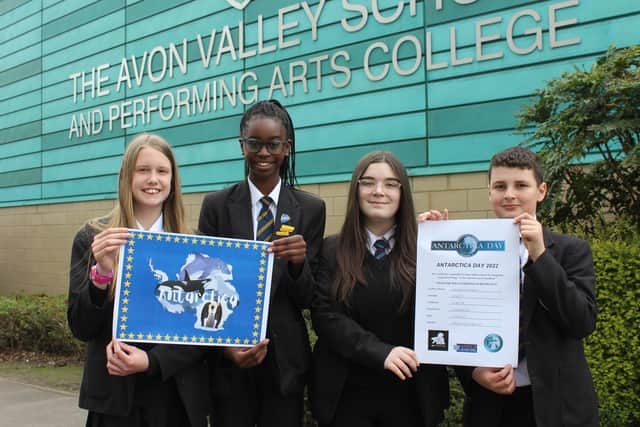 The students then set about designing their flag.
As Antarctica does not have its own official flag, the UK Polar Network asked participating schools to design a flag which they believe symbolises this continent. Chosen flags designed by school children in the UK are then paired with researchers who are heading down to research station in Antarctica.
The flag designed by Avon Valley's students features stars which represent the countries who've signed the Antarctic Treaty, wildlife that lives on or around Antarctica, the continents outline, and a blue background to symbolise the colour of the ocean.
The students were amazed when they received a photo of their flag being held in the far off continent by marine ecologists Emily Rowlands, Angelika Slomska and Ryan Saunders.
Headteacher, Alison Davies, said: "It is amazing to see that a piece of work created by our students has made its way to Antarctica and we are very grateful to the UK Polar Network for making this possible.
"Activities like this are an excellent way of inspiring young people, whilst helping them to learn."