Criminals have destroyed a Rugby charity's van used for vital trips to help people living in poverty.
Workers at Tools with a Mission (TWAM) are looking for support from local companies after thieves destroyed their van outside their refurbishment centre.
They said it's a 'devastating blow to their work'.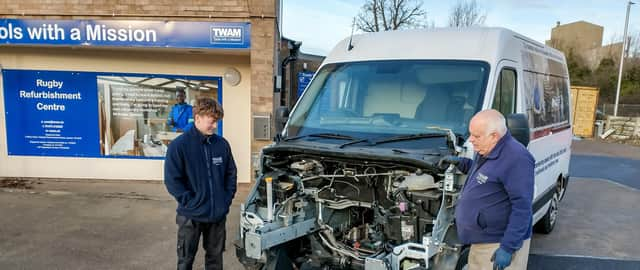 Staff pulled into the yard on Wednesday morning to see that the van's front end was completely missing. The previous night, thieves had removed the entire engine, the gearbox, the bonnet, and the driver's seat. The van is completely unusable and will likely be written off.
Ian Schoolar, deputy volunteer manager at the Rugby centre in Paynes Lane, said: "I am absolutely gutted. How could someone do this to a charity?
"Other volunteers at the centre are outraged by this act of theft and destruction."
The van was purchased only one year ago, thanks to a grant.
Mike Griffin, CEO, said: "With the cost of living crisis hitting our income hard and expenses going through the roof, this is heartbreaking, and we desperately need some local support."
The van is used to collect donated tools from across the country, which are refurbished and sent to Africa.
They are seeking support in the form of a new van or financial assistance towards one, and a secure place to park it.
Police told the charity that they can never keep a van in their yard again, as it will most likely continue to be targeted.