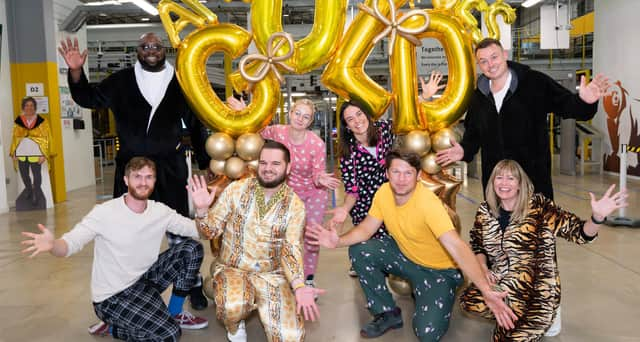 Back left to right, Lungile Dube, Nicole Stone, Juliana Matavelli Spanswick, ????, front left to right, Ieuan Spanswick, Daniel Jones, Will Otridge, Rachel Norris
Colleagues at a Rugby firm got some strange looks when they turned up for work in their pyjamas.
They took part in the stunt as part of a fundraiser to help children with cancer.
The team at Amazon's fulfilment centre made a £2,000 donation to Shine a Light as part of the company's global Amazon Goes Gold for Kids with Cancer campaign during Childhood Cancer Awareness Month.
A gold ribbon is the universal symbol for childhood cancer, so employees held a month-long series of gold-themed events in recognition of the international emblem.
The team also showed solidarity to children with cancer by donating £2,000 to Coventry and Warwickshire-based charity Shine a Light.
Site Leader Gayner Coulson said: " We look forward to doing our bit for children with cancer every year and hope that this donation offers encouragement to the charity's brilliant team and the families it supports."