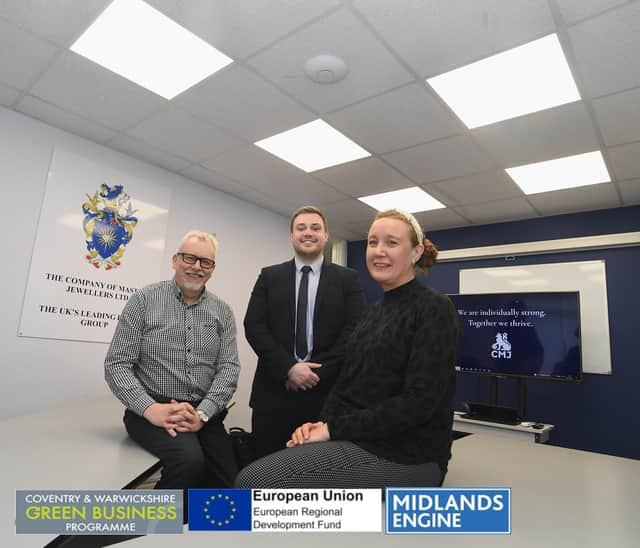 Support from Warwickshire business experts has helped light the way for a Rugby-based jeweller.
The Company of Master Jewellers (CMJ) in Somers Road has come up sparkling thanks to the Coventry & Warwickshire Green Business Programme.
Mark Howell, support centre manager at the CMJ, wanted to improve the lighting at the premises and was put in touch with the programme by the Coventry and Warwickshire Local Enterprise Partnership (CWLEP) Growth Hub.
Mark said the lighting system had not changed since the company moved in 43 years ago.
He explained: "We had fluorescent tubes and practically every week, one of the tubes needed changing which came at a cost and they weren't lighting our premises very well any more.
"I wanted to change to LED lighting since I also knew it was more efficient and environmentally-friendly so I contacted the Growth Hub and Adam came to see us."
A staff member from the Green Business Programme was sent to do an audit before helping Mark fill out a grant application for the lighting.
Mark added: "We received 40 per cent of the £5,000 needed to install the LED lighting and we are really pleased with the final outcome.
"Everyone can see much more clearly now and it will also cost less and is greener so it's a win-win."
The CWLEP Growth Hub helps businesses in all sectors access funding for grants to improve their day-to-day operations.
Account manager Adam Plumb said: "There is a wide range of support available to help businesses and organisations throughout Coventry and Warwickshire and there is no need to feel daunted at the thought of applying because help is available every step of the way."
Bernie McCullagh from the Green Business Programme explained switching to LED lighting is a simple and efficient way for businesses to lower their energy bills, as well as their carbon footprint.
She revealed the move would save CMJ over £3,000 a year and reduce its annual carbon footprint by almost two tonnes.