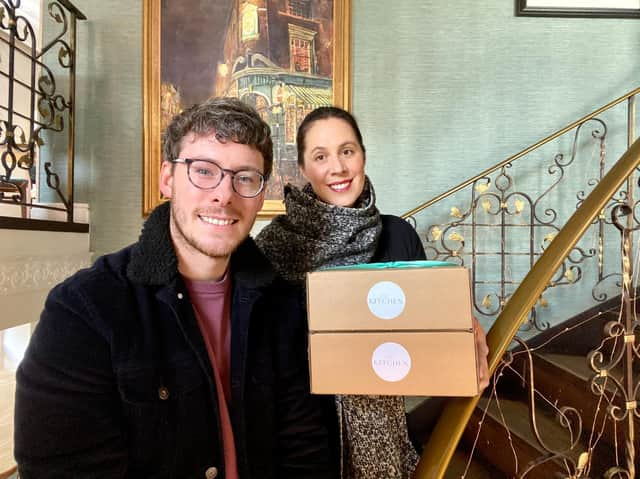 Jack Smith with Else-Marie, the Michelin-Star-experienced head chef of CVC kitchen.
This week the Advertiser continues our project where we visit independent businesses across the borough to see how they are doing as the lockdown continues to ease.
The award-winning Café Vin Cinq has been somewhat of a feature in the town centre since its opening in 2010, with a reputation for top-class food and a beautiful setting that oozes Parisian charm.
Today, May 6, we visited the restaurant and spoke with business development manager Jack Smith where he discussed how the business has battled through the lockdown and unveiled exciting plans.
Explaining the restaurant's reaction to the pandemic in early 2020, Jack said: "First and foremost we were thinking of the safety of our staff and customers, we were less concerned about what would happen to the business.
"We were willing to do whatever it took to make sure everyone was safe - and closing the restaurant was the best way to ensure that."
That said, there was a fear that the business, which had been planning events to celebrate its tenth anniversary in 2020, would not emerge from the pandemic.
Jack said: "This is a family business, I was front of house in 2010 when we first opened and I've watched it grow ever since.
"It was a little terrifying, we just didn't know whether the hospitality industry would survive.
"But when things are out of your hands you can either get stressed or you can try to relax."
Jack said the unveiling of the government's financial support for businesses, particularly the furlough scheme, took a lot of pressure off.
It was the releasing of some of the pressure that then allowed the business to consider how best to adapt to the conditions.
This led to the development of CVC Kitchen, which delivers meals, hampers or buffets to the doors of residents and businesses across the area.
The service has proved a huge success, with high sales of hampers over Christmas being a particular highlight.
"This definitely wouldn't have happened if there hadn't been a lockdown," Jack said.
"A lot of the time, it's easy to think 'if it isn't broken, don't fix it' - but because of the pandemic, independent businesses have been forced to innovate.
"It's sort of an incandescent silver lining."
That said, Jack added he feels huge sympathy for all the business owners and staff who did not make it through the last year.
"We're really pleased with what we've been able to do, but we would never want to boast or be vulgar about it. I've seen the effect this has had on some businesses and it's catastrophic."
Jack is optimistic about the future of small independents.
He said: "I don't know if it will happen right away, but I really believe there will be a resurgence in independent businesses.
Jack said he believes previous political drives to mimic the American system in Britain is one of the catalysts for the rise in chain stores across the country.
But he thinks many are fed up with identical chain stores, restaurants and cafés lining Britain's streets.
He said: "I grew up here, I love this town, but has been losing its identity.
"Going forward, we want to work with the council and other independent businesses. They are our friends and neighbours."
It is this weariness of identical outlets - and a loyalty to independents brought about by the pandemic - that Jack believes will fuel the resurgence.
So too will it be fuelled by the many innovations made by independents through lockdown, he added.
And on the subject of innovations, Jack unveiled plans to open a shop on Regent Street, which will sell food that is up to the high standards of the restaurant.
The opening date has not been set, but work is underway to fit out the unit.
"With Café Vin Cinq and with this shop we are trying to help to bring the best to Rugby town centre."
Jack spent five years in Sydney reviewing some of the world's best restaurants for publications including the Guardian and CNN - and he said much of what he learned in Sydney is now being practised here, with the aim of making the business the best it can be.
Jack finished with a thank-you to all who supported the business through the lockdown.
He said: "Without the support of my colleagues and customers I wouldn't have been able to do anything.
"I want to say a huge thank-you to all of them.
"The support has been brilliant, we've even had customers messaging us on Facebook to say they hope we're alright and they're looking forward to coming back.
Learn more by visiting cafevincinq.comThe Advertiser would like to take this chance to publicly thank Café Vin Cinq, which was one of the Rugby businesses who supported us through the pandemic by choosing to advertise with us.