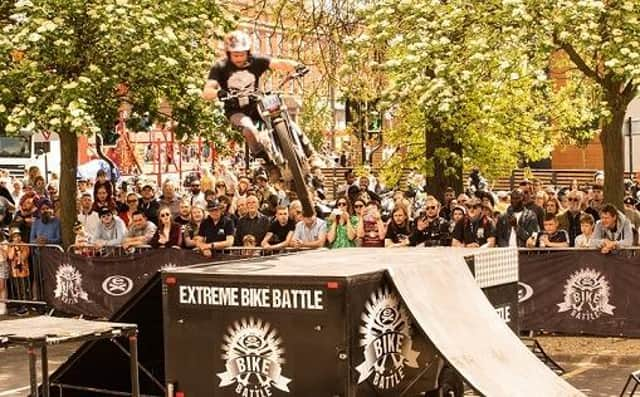 IN PICTURES - Thousands descend on Rugby town centre for festival of thrills, noise and rock 'n' roll
Thousands lined streets to admire the cavalcade of two and three-wheelers
Published 22nd May 2023, 09:56 GMT
Updated 22nd May 2023, 10:07 GMT
A procession of motorbikes rumbled into Rugby on Sunday morning, as hundreds of riders travelled in convoy for the annual ride in circuit that kick-started the annual Rugby Bikefest.
They made their way along Church Street, North Street and around the town as a crowd, estimated to be in excess of 2,000, lined the streets to admire the cavalcade of two and three-wheelers.
Models ranged from classic Vespa scooters to modern computer-assisted superbikes. The machines roared and snorted their way through the town centre, sending the decibel count soaring and leaving a tang of petrol fumes lingering in their wake.
The festival was presented by Rugby First as a family friendly experience, with funfair activities for children, food stalls for the hungry and bike displays for the petrolheads.
The Extreme Bike Battle stunt show, which was set up in the town hall car park, drew large crowds who audibly gasped and cheered at the spectacular leaps and twists of the riders, who seemed to defy gravity, as they flew over obstacles and ramps in a flimsy looking BMX bike and a 300cc Montesa trial bike.
There were those who hadn't come to listen to the noise of pulsating pistons, they came instead to listen to the throbbing rhythms of live music, played by some of Rugby's best musicians; they were not disappointed.
Included in this year's line-up was Wild Ride, a local band with a growing reputation for their voguish performances of hard rock.
Opening their show with the raucous head-banging anthem, 'I Wanna Rock' by Twisted Sister, they had their audience jumping and cheering to songs recorded by Led Zeplin, Bon Jovi and Donna Summers, before closing Bikefest 2023 with their cover version of 'I Believe In A Thing Called Love' by The Darkness.
Linda Lowne, Rugby First Business and Stakeholder Manager, said: "Rugby Bikefest is one of the most popular events in the town. It attracts thousands of visitors from the local area and further afield and creates a real buzz in the town centre.
"I would like to say thank you to local biking groups, for their help and advice. Without them, we would not have been able to deliver such a successful event."