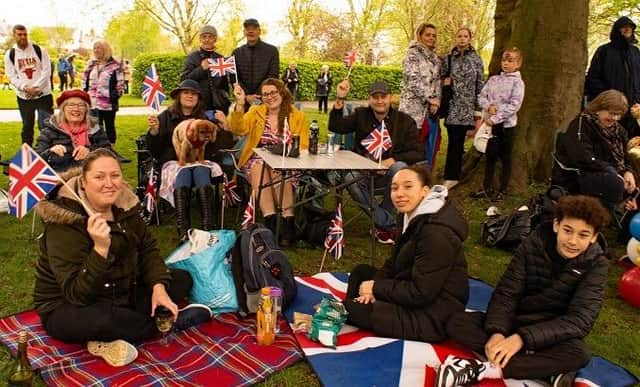 King's Coronation: Rugby people brave rain for weekend of Royal celebrations
Town marks the coronation of King Charles III
Published 8th May 2023, 10:22 BST
Updated 8th May 2023, 10:31 BST
Ambitious plans by Rugby Borough Council to mark the occasion of the coronation, were almost washed away by an inconvenient turn in the weather.
But despite the heavy showers, the church bells did ring out, the union flags flew high on their masts and the bunting fluttered on their strings between market stalls.
This was a day that Rugbeians would remember and enjoy.
At Caldecott Park, where a giant screen had been erected to transmit live action from Westminster Cathedral, the numbers who attended were far less than had been expected.
But the hardy souls who did turn up were not disappointed.
They may have had to set up their picnic tables and chairs under hanging branches and umbrellas to stay dry, but they remained undaunted and waved their flags and they cheered whenever a Royal person appeared on the screen. Some even sang along to the choral music.
There were a few who eyed the ceremonial trappings as 'a bit over the top' but most enjoyed the glamour and the colour of the spectacle and were happy to put up with the extravagance.
"It only happens every 70 years," called out 83-year-old Bill Reid from Brownsover, to a hearty cheer.
And John Deaves, from Rugby, could also recollect hazy memories of the last coronation.
"I can remember flickering images of the Queen on the television."
There were indoor venues throughout the town that opened their doors to show the coronation. Saint Andrew's church attracted many who watched the event from the pews and Rugby Ukrainian Community laid on a welcoming table that was open to all.