Leamington's pioneering and colourful approach to help people maintain a safe distance in the town centre is thought to be the first of its kind
The idea is already being shared far and wide with BID Leamington having received interest from as far afield as New Zealand
Watch more of our videos on Shots! 
and live on Freeview channel 276
Visit Shots! now
Leamington is embracing flower power to help people maintain a safe distance in the town centre during Coronavirus.
BID Leamington is pioneering a more welcoming approach to social distancing by installing bright images of flowers at two metre intervals on pavements around the town centre.
The business-led organisation came up with the novel idea to help and encourage people to keep apart now and in preparation for the government's planned easing of social restrictions.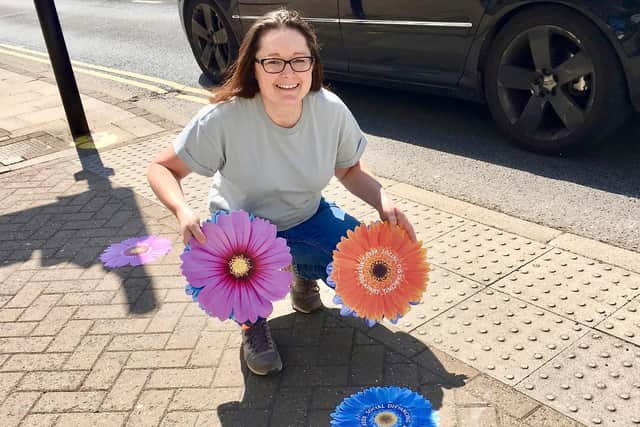 The bespoke floor graphics are thought to be the first of their kind and have been located on key junctions on the Parade at Regent Street and Warwick Street, and the junction of Park Street and Warwick Street.
They have also been positioned at the entrance to the Royal Priors Shopping Centre and BID Leamington is now working with town centre businesses to deploy them further.
Stephanie Kerr, executive director of BID Leamington, said: "We wanted pavement graphics that would be less authoritative and more welcoming, and came up with the idea of colourful flowers as we felt it reflected our town and would be enjoyed and embraced more.
"As we plan for the gradual opening up of the town centre, it is important to us that our community knows we are thinking about ongoing safety. Fostering trust and loyalty is more
important than ever as more people start to return, and we see creative signage as part of that.
"We installed a first bunch as a trial to gauge feedback and the response was incredibly positive. Where possible, we will be using them throughout the town centre and are working in partnership with businesses and other stakeholders to help manage other public space challenges, such as queueing."
BID Leamington worked with City Dressing, a company specialising in street dressing, to devise the stickers which are printed on recyclable vinyl with an adhesive back and non-slip
The idea is already being shared far and wide with BID Leamington having received interest from as far afield as New Zealand, as well as three local schools, which also helps with
consistency of local messaging.
Stephanie said: "The feedback has been amazing and even while we were installing them people gushed with positivity. I think there was tangible relief that the interventions being installed to protect them were also attractive, colourful and lifted the spirits.
"Parents have told us that it is also easier to get their children to stand by them, as they are fun and interesting. We have also been contacted by schools, who have also identified the value of using them to reduce stress and anxiety for returning students, which is relevant to us all."
BID Leamington is continuing to lobby for further help for businesses as it focuses all its resources on supporting the town centre and planning for when restrictions are lifted.
A key part of this is backing a nationwide #RaiseTheBar campaign calling for the £25,000 retail, hospitality and leisure grant threshold to be extended from £51,000 to £150,000, which would benefit over 100 Leamington town centre businesses who have missed out.
BID Leamington is also promoting the need to support local businesses and is inviting the wider community to get involved by getting in touch with any creative or tactical ideas to support the town centre.