New critical care cars have been launched by a life-saving charity to help people in Rugby and beyond.
Two Skoda Kodiaq vRS SUVs have joined the Air Ambulance Service's (TAAS) fleet as the charity celebrates 20 years of saving lives.
Critical care teams work 365 days a year, 24/7, to help save lives across its five counties and further afield – getting the specialist teams to where they need to be, fast, by choosing the most suitable way of reaching those in their time of need.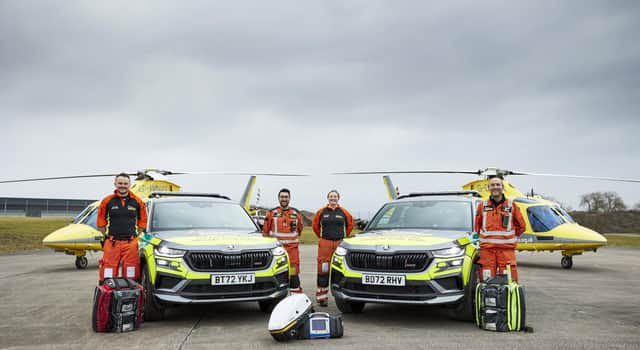 As the roads are clearer at night WNAA and DLRAA utilise cars rather than aircraft. The cars are also used within the day to attend emergencies that are quicker to reach by road and enable the charity to continue attending vital missions if the aircraft is unavailable due to maintenance, or if the service is affected by very poor weather conditions.
Philip Bridle, Head of Operations at the Air Ambulance Service, said: "It is more imperative than ever, that our fleet of Critical Care Cars can meet the demands of the job. The reliability, versatility, and power of the two new Kodiaq models will enable us to continue to respond rapidly to emergencies across our five counties and beyond.
"Thanks to generous public donations and continued support over the last 15 and 20 years, WNAA and DLRAA have driven into 2023 with these meticulously chosen, designed, and equipped new cars for its crew's and patients' needs."