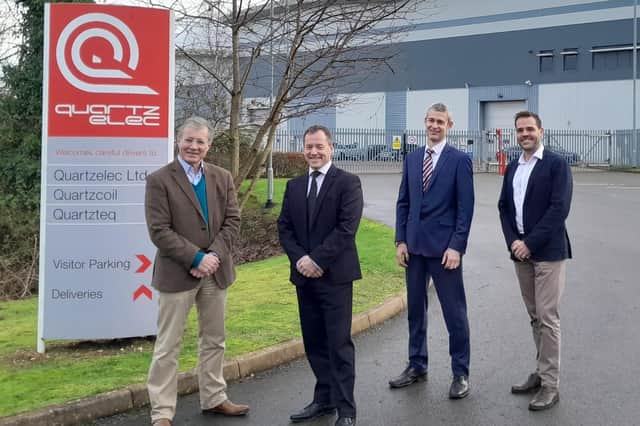 Quartzelec invited Mr Pawsey to visit their headquarters, at Castle Mound Way, on Thursday, January 5, to talk to him about their work in the global power and energy sectors.
It can call on more than 100 years of experience in supporting industry, infrastructure and the commercial and service sectors with its contracting and rotating machine services.
From its Rugby location the business focuses on providing maintenance and service support solutions for rotating electrical machines.
The MP was shown how the team can repair and refurbish these machines to ensure they remain operational throughout their design life and look to extend wherever possible.
Quartzelec's Rugby roots come from being part of British Thomson-Houston and later GEC and Alstom, before spun off in 2001 to become Cegelec.
There was then a management buyout in 2006, with the name Quartzelec being adopted in 2007.
That history means it has a huge wealth of expertise to support rotating machines previously manufactured by these heritage companies and which are still operating across the world.
Mr Pawsey was told about that history and their current work in the expanding energy generation sectors.
He also spoke with them about the opportunities for them as the UK moves towards a decarbonised energy sector. The potential of hydro energy was also discussed, which the MP has previously spoken in support of in Parliament.
He said after the visit: "It was fascinating to walk round their factory in Rugby and see the considerably sized copper coils manufactured here as well as the scale of the rotating machines, which are such a key part of the energy sector, being engineered locally.
"I am also grateful to operations director Keith Evans and his team for their time and for giving me such a comprehensive explanation of how these rotating machines work, and the vital skills that go into maintaining them.
"Ensuring that Rugby's retains its engineering skills is a priority for me and so it was very useful to discuss with Keith and Quartzelec both the opportunities for the sector thanks to the decarbonisation agenda, but also the challenges that businesses such as theirs face. I will be raising these issues with ministers so that we can continue to support this crucial sector of our economy."
Mr Evans added: "We are incredibly grateful to Mark who was so generous with his time as we took the opportunity to showcase our unique, purpose-built facility here in Rugby which is the flagship of our organisation, to meet our team here and understand their immense talent and expertise.
"We are a growing business with an intimate knowledge of the entire power chain and our specialist expertise and manpower within our group enables us to engineer and deliver effective solutions. We of course face challenges along the way and Mark was good enough to listen to our thoughts and will share them within his relevant working forums."