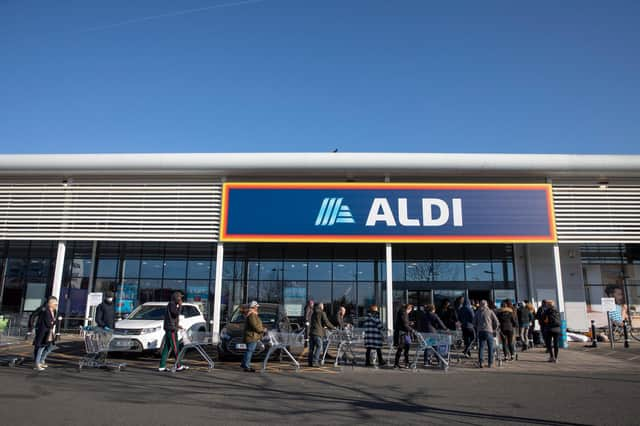 New Aldi store could come to Rugby.Photo by Dan Kitwood/Getty Images)
Nearly 50 jobs could be created in Rugby if plans to build a new discount food store in the town centre go ahead.
People are invited to have their say on Aldi's plans to transform the former Cemex site.
The scheme for a modern Aldi food store were announced in the summer, with over 85% of locals backing the idea.
More than 1,000 people backed the plans to bring additional retailers into the town centre.
The council will now consider the scheme through the planning process over the coming weeks. Aldi is asking the local community to have their say so the council are aware of the significant local support for the proposals.
Ward councillor, Cllr Maggie O'Rourke said: "The plans submitted by Aldi will help to rejuvenate our town centre, replacing the tired Cemex building with a modern and accessible food store that offers local residents' greater choice for their weekly shop.
"I hope the council will back these plans as part of the first step in modernising our town centre and protecting it as the retail hub of the borough."
The new store will be accessed via Corporation Street with an egress point onto Evreux Way. This allows residents to easily access the north of Rugby town without going round the one-way system.
On-site there will be 93 car parking spaces, six of which are dedicated accessible bays and six parent and child bays.
There will be four EV charging points with additional infrastructure installed for more in the future. Shoppers are offered 90 minutes of free parking allowing residents plenty of time to do their shopping and visit other local retailers.
Aldi Property Director, Robin Williams said: "We're delighted to have submitted a planning application for a new store in Rugby. Our plans will help to realise the council's ambition of regenerating the town centre. Aldi is a high-quality discount retailer and is now the fourth largest supermarket in the UK. We're excited about working with local businesses and residents to bring more people into the area to shop and to create over 45 new jobs for local people."