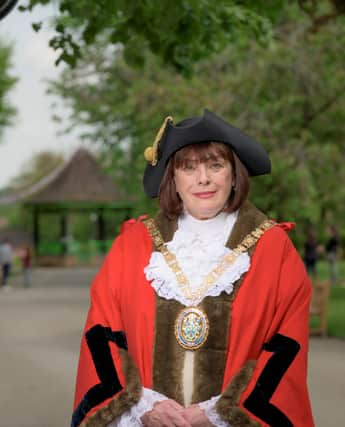 Rugby's new mayor has revealed ambitious plans to bring communities together and provide a children's chill out zone for the hospice.
Cllr Maggie O'Rourke, who was appointed as mayor yesterday (Thursday) worked tirelessly to help bring Rugby Myton Hospice to the town.She now wants to see the people of Rugby join together once again to improve the service and create a soothing garden for hospice visitors.Cllr O'Rourke has represented the Benn Ward since 2008. Born in Birmingham, she moved to Rugby more than 50 years ago when her parents took over the running of an off-licence in York Street.
Her career working in the NHS started at the Hospital of St Cross, where she worked in the pharmacy department for 20 years before moving into senior roles at Warwickshire Strategic Health Authority, NHS Warwickshire and South Warwickshire NHS Trust.
Cllr O'Rourke said: "I was involved in the campaign to build Rugby Myton Hospice and its success demonstrated anything is possible when you combine collaboration with determination."This year, I want to bring Rugby's communities together in the same spirit to support the hospice's ambitions to create a 'chill out' room for children and expand the hospice garden, which both promise to make a real difference to the quality of care the hospice offers."
The charity opened the day hospice in the grounds of the Hospital of St Cross 21 years ago following a successful £1 million fundraising drive.The hospice provides a range of care and support services for residents with life-limiting conditions, and also operates a 'hub' offering support, information and guidance to residents facing a terminal diagnosis and their carers.
During her Mayoral term, Cllr O'Rourke also plans to promote Rugby businesses - from independent stores and charity shops to market stalls, bars and restaurants.In addition to encouraging residents to 'shop local', Cllr O'Rourke wants to raise Rugby's profile as a tourist destination, with 2022 marking the bicentenary of the birth of rugby football and the Rugby World Cup kicking off in France in September.Cllr O'Rourke has also launched the Mayor's Appreciation Award to highlight the work of individuals and organisations who work to improve the lives of the borough's residents.
The first recipients of the award were Diana Mansell, chair of the Hope4 charity, which supports the homeless and runs Rugby Foodbank, and Alison Farnell, co-ordinator of Make Lunch Rugby, a project which provides food during the school holidays for children who receive free school meals.Cllr O'Rourke said: "There are so many people in our borough doing incredible work, work which often goes unnoticed."These people are local heroes and I want to throw a huge spotlight on them and the amazing work they do."
Cllr O'Rourke has known her husband, Brendan, since both studied at Bishop Wulstan School. The couple have four children and five grandchildren.
Cllr Simon Ward was appointed Deputy Mayor.Anyone interested in supporting the Mayor's charity can call (01788) 533523 or email [email protected] more information about Rugby Myton Hospice, visit the website: www.mytonhospice.org