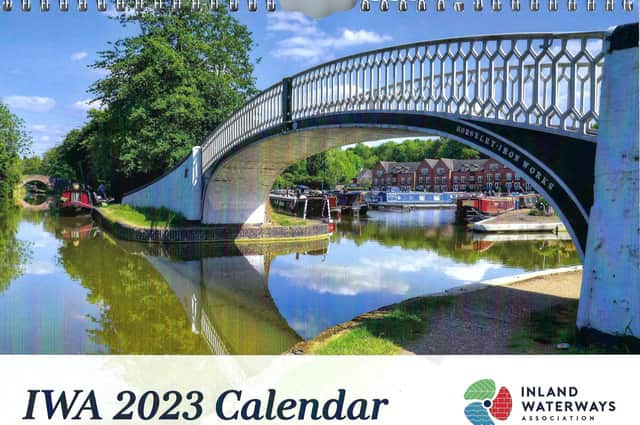 Braunston Marina has made a good start to 2023 by featuring in not one, but two national calendars – the first time the marina has ever enjoyed a calendar appearance.
The first - with the marina seen in high summer from the canal through the arch of its famous Horsley Iron Works cast iron bridge - is on both the front cover of the 2023 IWA calendar, and then again as the feature for August. The photograph was taken by Baz Richardson.
The second is in the Northamptonshire 2023 Calendar, produced as part of their county calendars by Carousel Calendars. Braunston Marina is seen in the deep mid-winter as the opening shot for January.
The photograph was taken from the quayside near the marina shop, looking towards that bridge and beyond to All Saints Church - the 'Cathedral of the Canals' - on the summit of the ridge beyond.
In its introduction, the calendar refers to Northamptonshire as, 'a jewel of a county… history pervades the region – there are traditional industries, a network of canals, and
magnificent country houses.'
So between them, the calendars feature the marina looking in and looking out, in summer and winter.
But the marina was not always in such a photogenic state, as shown by photographs taken in October 1988, shortly after I had acquired the marina. It has taken years of toil to bring it to its present pictorial state.
Whilst this was the marina's first calendar appearance, it has appeared in various publications over many years. A highlight was being included in a collage of photographs included on the cover for the booklet produced by the new unitary West Northamptonshire Council in 2021, having also featured a year or so before in the consultation paper sent out to all West Northamptonshire residents.
When that reorganisation was in progress, I happened to meet the now late Cllr Steve Osborne, who was for many years a stalwart member of the former Daventry District Council.
He was a great supporter of Braunston Marina from my earliest days – at a time when there was little support for it forthcoming from that council, and indeed downright hostility in certain quarters.
I told Steve how flattered I was to see the marina featured on the front cover of that booklet, especially as there was as at least one famous country house not featured.
Steve replied in his matter-of-fact way: "They made the correct choice. Braunston Marina is now a wonderful place and more important. Some people have mixed views about country houses, and just how the money was made to build them. And they are only open for part of the year, and you have to pay to go in.
"Braunston Marina is always open to visitors to come in and look around, and use it as a base for walking the Grand Union Canal. There's no charge, and its legacy is the great canal builders and the generations of working boatmen.
"It's always my first port of call for taking visitors, or just getting out and about with my family."