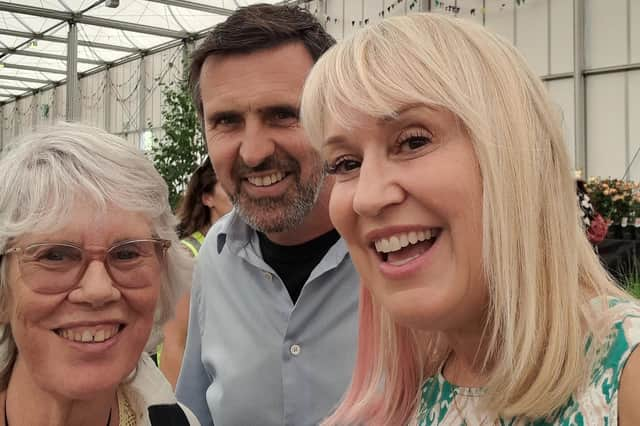 REVIEW: Green-fingered Rugby gardener Kate rubs shoulders with celebrities at BBC Gardeners' World Live 2023
BBC Gardeners' World Live, 2023 was a spectacular day out with scorching sunshine and wonderful opportunity to gather information relating to gardening problems
Published 19th Jun 2023, 15:33 GMT
Updated 19th Jun 2023, 17:05 GMT
I can still see the wonderful explosion of colour after my spectacular visit to BBC Gardeners' World Live, 2023.
Held at the NEC, it's an inspirational day out filled with plants, shopping, live entertainment, expert advice and favourite Gardeners' World presenters.
There was something for all gardeners in a welcoming atmosphere and mix of stunning Show Gardens,
Beautiful Borders, favourite presenters, the magnificent Floral Marque and Plant Village, great shopping and live entertainment.
Attending Press Day on Wednesday, I viewed the wonderful gardens at their best without the crowds concluding with the tension packed Award Ceremony.
I returned on the Thursday to experience the added atmosphere of battling with the crowds and opportunity to see gardens finished and a vast selection of gardening tools and associated goodies and celebrity Gardeners' World presenters.
The Garden Fit for a King was a headline Show Garden by multi award - winning designer Paul Stone. The Coronation garden, of HM King Charles 111, awarded a Gold was inspired by the ecosystem of his gardens and Arboretum at Highgrove, combining a natural wildlife
carpet, and the King's concern for the environment with a Bothy cottage as a highlight.
Awarded the top award for Best Show Garden and a Platinum award was the Newson Menopause Garden designed to be a 'safe, tranquil and comfortable space for women to reflect on their health, gain information and advice from menopause experts, Ruth Gwynn,
Dr. Louise Newson, founder of the Newson Health Menopause Clinic, and Rupert Keys.
Relaunched this year was local children's innovative wheelbarrow design competition with the 'mealbarrow' theme, a meal in a barrow for 38 selected schools, judged by the public with counters in buckets next to their favourites to win.
I particularly enjoyed the inspirational book lovers' Paradise in Paperback, awarded a Silver Merit, and designed by Eleanor Morgan, who created a garden to escape and be lost in a good book
Agapanthuses, African lilies were my choice of plants to purchase. I limited myself to three different colours: fireworks, a blue in the throat flower with a white petal edge; strawberry ice, with broad, strap like leaves and tight balls of white trumpet flowers with a pink flushthat darkens with age and a third called Royal Velvet of medium size, intense, dark violet blue flowers and anthers of violet blue flowers.
I learnt it was a good idea to buy one and a half to 2 year old plants and plant them straight into 6 inch pots with care instructions given.
Amazingly, further into the marquee I discovered Alan Titchmarsh and the Agapanthus specialist giving a talk on how to grow, Agapanthus and learnt about their care and how to successfully replace the fifteen year old agapanthus that sadly died in the frost last winter.
Last summer there was a magnificent last flourish of sixteen flowers.
The local Ryton, Garden Organic Backyard Biodiversity Garden was designed by Emma O'Neil.
She commented: "The main emphasis of the garden is to encourage as much bio diversity as possible as this is the key for the organic gardener. It's full of wild life hints and tips to take home to your own growing space."
The garden encouraged wildlife into the garden during climate change, with drought resistant plants that were growing through a dry
gravel garden including silver-leaved perennials and grasses. Beneficial weeds such as nettles and dandelions are re-imagined around a pond and there's a perennial vegetable bed to prolong the harvest. The gardens are in Wolston Lane, Ryton on Dunsmore, CV8 3LG.
I happened to sit next to Claire Morrell. It was her first time ever show garden and during the Award ceremony I shared her excitement when she was awarded a Platinum and Best Border 2023! Claire was over the moon. Her garden was a happy place with her border focusing on scent and serenity with a white theme, a place to relax and breathe. I found it a calming, mindful garden that created "a true escape and ultimately the opportunity to just breathe".
Barnsdale Gardens 40th Anniversary, Silver Merit: I remember watching popular down to earth gardener, Geoff Hamilton on Friday nights in the 1970s when he first appeared on Gardener's World and and now his son, Nick has followed in his father's footsteps. Geoff decided to create 38 smaller gardens that his viewers could relate to and apply in their own gardens.
There were two Floral Marque Awards: The Geoff Hamilton Award for Best Floral Marquee Exhibit to Grafton Nursery for Eucalyptus trees and the Peter Seabrook Award: Best Plant Award for the Rose Peter's Persica in Geoff and Peter, Gardening Writer and Broadcaster's
A throng of people unable to resist countless, tempting plants to take home, a multitude of trollies and large plants swaying and crashing against my legs made wandering through the keen shoppers and gardeners difficult but all worthwhile and added to a motivating day.
I couldn't wait to return home and implement garden ideas into my own garden.
BBC Gardeners' World Live took place from June 15-18. Visitors enjoyed plants, shopping, live entertainment, expert advice from favourite Gardeners' World presenters, including Monty Don, Adam Frost, Carol Klein, Frances Tophill and Alan Titchmarsh.
Guests experienced stunning Show Gardens, Beautiful Borders, the Floral Marquee and Plant Village to shop from a vast array of nurseries with an unbeatable variety of plants.
There was something for all gardeners in a welcoming atmosphere and mix of stunning Show Gardens,