A tranquil new area where children can enjoy calm and reflective activities has opened its doors at a Bilton school.
Rugby Mayor Carolyn Watson-Merret opened The Sanctuary wellbeing space at Bilton C of E Junior school this week.
Cllr Kam Kaur and Cllr Peter Butlin, who helped fund the project with two of the school's governors, also attended the celebrations.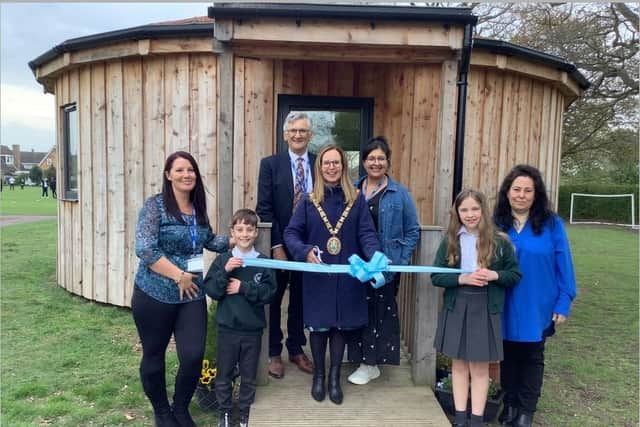 The Sanctuary was designed to provide the perfect environment to achieve improved communication and social skills for the children.
Fundraising started in 2019 and the main challenge for the completion of the project has been Covid19.
Despite hurdles, the project is now complete and provides an amazing space in the school.
Head of School, Kate Webb said: "The Sanctuary has a key role as an essential resource for us to enable our children to explore, talk about, and develop emotional resilience within a peaceful environment."
The Sanctuary is currently used for a number of activities ranging from occupational therapy – muscles and focus for learning and sensory circuits, through to PSHE Jigsaw sessions and play therapy.
Mrs Webb added: "We feel truly blessed to have this amazing space as part of our school and thank all of those who contributed towards the success of the project; without the donations and hard work from so many people we would not have been able to turn our vision into a reality."
It's a big hit with the pupils too.
They said: "We like coming to the Sanctuary because it is calm and quiet.
"We can enjoy time with our friends without it being too loud and noisy."