Rugby mum hopes to inspire others to follow career dreams
"Within a month of applying, I was working in the department, within six months had a permanent position, and I was promoted to HR partner last year."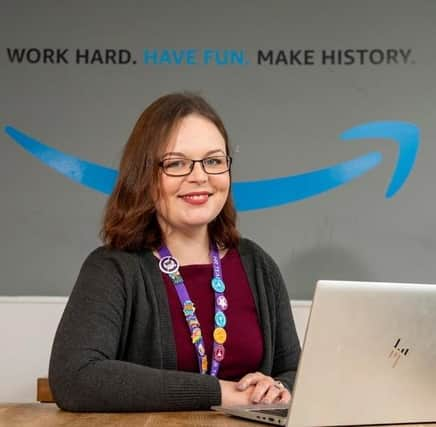 An apprentice from Rugby hopes to inspire others to follow their career dreams.
Cally Stothard is one of the 1,600 apprentices currently taking part in the Amazon Apprenticeship programme.
The business has helped 5,000 apprenticeships since it launched the scheme ten years ago.
She started her Chartered Institute of Personnel and Development (CIPD) Level 5 Apprenticeship programme in 2021 and after some time away on maternity leave, she is back and aiming to finish in 2024.
Cally said: "Working in HR means you have to be flexible and ready for anything to ensure everyone receives the support they need. My favourite thing about being an apprentice is that you're constantly learning and then applying that practically.
"I applied for this apprenticeship after a lot of encouragement from my manager, and because I wanted a greater depth of knowledge within the field of HR."
After studying a fine art degree, Cally spent some time in the hospitality industry in a number of management roles before moving into a role in employee benefits for three years. During this time, she spent a lot of time liaising with HR departments, and it gave her an interest in the discipline.
Cally went on: "I honestly didn't know how I would get into HR, so I benched the idea until I started working at my local Amazon fulfilment centre and saw a temporary position as an HR associate partner.
"Within a month of applying, I was working in the department, within six months had a permanent position, and I was promoted to HR partner last year."
Cally's advice for those thinking of doing an apprenticeship is to 'just go for it'.
"It's a great way of getting into an industry," she said.
"Regardless of the outcome, you will have met some great people and learned new things."