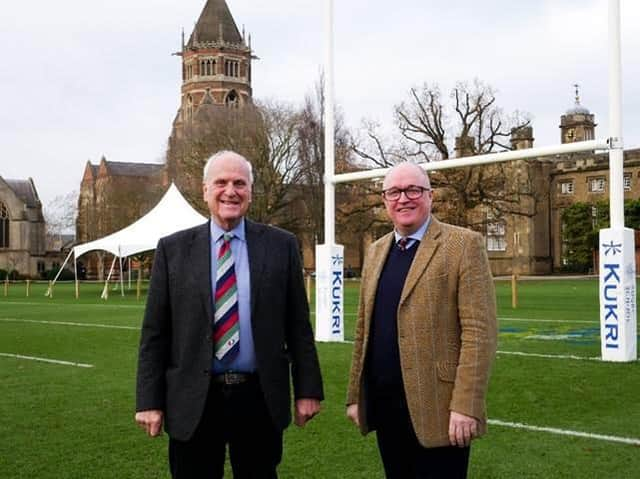 Rugby School has joined forces with a charity to help raise £50,000 for work with children and vulnerable young people in the community.
The school has partnered with Wooden Spoon to launch a series of events to honour rugby, the community and their core values of teamwork, respect, enjoyment, discipline, and sportsmanship.
For the last 40 years, Wooden Spoon has established itself as a leading voice within the rugby community by working with a nationwide team of passionate individuals and ambassadors to raise vital financial resources to launch life-changing projects across the UK & Ireland.
Not only does 2023 mark the 40th anniversary of Wooden Spoon's inauguration, but it commemorates two centuries of Rugby School's history, where in 1823, local boy William Webb Ellis, with a fine disregard for the rules of football, took the ball in his arms and ran with it, originating the game of rugby football.
Peter Green, the Executive Headmaster of Rugby School Group, said: "I am delighted that Wooden Spoon children's charity is partnering with Rugby School to mark the bicentenary of rugby football next year (and indeed its own 40th birthday). Throughout 2023, we will be hosting a large number of celebratory events as well as matches – to be played here on The Close, the ground where the game was invented - many of which will raise funds for charity.
"I have been a lifelong supporter of rugby – as player, coach, and spectator - and have always been struck by the strong and enduring friendship that the game fosters, its sense of community and inclusivity wherever it is played, and the trust in each other that teams demonstrate on the pitch. Even in fierce competition, players and coaches are respectful of each other.
"Rugby School encourages these qualities in our own community of students and staff, not only in games of rugby and other sports, and it is entirely fitting that Wooden Spoon, a charity based within the rugby community and helping disadvantaged children across the country, will be able to benefit from the funds raised at the school across this special year."
The memorial events at the school include a bicentenary art competition, an exhibition in the School Museum, rugby festivals and an attempt at creating the World's Largest Rugby Scrum on the hallowed pitch, The Close.
The main event of the series will see Wooden Spoon showcase two spectacular games of rugby when a men's and women's team of legends from the home nations will take on a team of Wooden Spoon Vets on June 24 on The Close. The men's and women's teams will be captained by Wooden Spoon Ambassadors and rugby legends Tamara Taylor and Lee Mears.
Ian Holroyd, Chair of Wooden Spoon Warwickshire, said: "We're really excited to be partnering with Rugby School to celebrate not only 200 years of rugby, but also our 40th anniversary.
"We can't wait to get started and look forward to inviting you all to attend the brilliant programme of events we've planned to celebrate this monumental occasion."