A darts tournament held in memory of a popular Rugby teenager has raised more than £1,500 for charity.
The Joe Spooner Darts Tournament – named after the 15-year-old Lawrence Sheriff School pupil who died of Sudden Adult Death Syndrome (SADS) in 2005 – was held yesterday (Sunday) at Rugby Workers Club in Oliver Street.
Joe's mother, Tracey, said: "More than 30 men battled for the honours, with Matt Goss and Carl Green serving up a thrilling semi-final with Carl narrowly winning 3-2.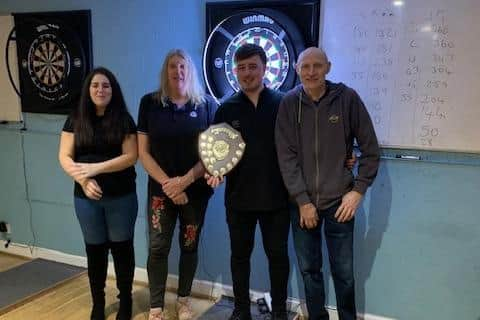 "In the second semi, Charlie Symons showed his class to beat an injured Ricky Reed 3-0. An exciting final with top class darts saw Charlie beat Carl 4-2."She said the ladies' competition saw a much lower number of players but still contained entertaining matches played in the best spirit.
Cheryl Douglas beat Zoe Clarke 3-1 in their semi-final with Janine Gough winning 3-0 against Angie Jones.
Tracey added: "Janine then played a terrific game to win her final 4-0."As is tradition, the winners then played each other for the overall title. Charlie was outstanding, beating his partner Janine 4-0 with a smattering of 180s to win the competition for the second time."The day raised £1,560 for SADS UK in memory of Joe.
"This is a wonderful amount for SADS UK, in memory of a wonderful young man," Tracey said.Joe's family would like to thank The Workers, Bradley Electrical, all the players, chalkers and everyone who donated prizes, time and money.