A group of writers who meet in a Rugby cafe have banded together to publish their own poetry book.
'Press Pause: Relax with a Poem' is a 250-page book featuring more than 20 poets from the Rugby area.
They all belong to the Rugby Cafe Writers, a group formed five years ago by the romantic novelist Theresa Le Flem.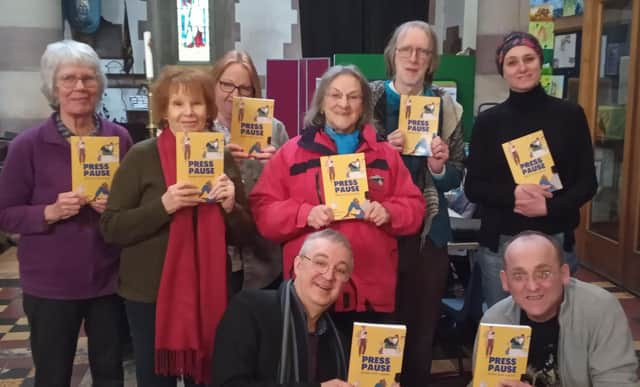 They are based at the Thirteen Bells Cafe inside the town's St Andrew's Church and meet there every fortnight.
The book, available for £6 from Amazon, is a collection of poems about remarkable people, nature, places, the past and even some quirky poems about favourite pets. There is also an ebook and hardback edition available.
"We're delighted to have published our new book. It's a dream come true," said John Howes, of the Rugby Cafe Writers.
"There are some really talented writers in our group and some have never had their work published before. It is wonderful they now have a chance to get their work out to the public."
The idea behind the book was to offer easy-to-read poems which the casual reader could relax with for a few minutes over a cup of tea of coffee.
The Cafe Writers' group, which has about 50 members, is open to anyone who is interested in writing or books. Beginners are always welcome and find a supportive atmosphere for their work.
John added: "At each meeting, we either have a discussion about writing skills, or a writing challenge - perhaps a title we have to work with, or a topic, or coming up with something in a genre such as horror, comedy or romance."
The book will be on sale at the Saturday Singing Festivals at St Andrew's Church which take place on the second Saturday of each month from 10.30am.
This is the second anthology published by the Rugby Cafe Writers. The first, Get to the Point, came out in 2019 and features a selection of short stories, memoir and poetry.