Rugby's historic clock tower is to be a focus for the town's coronation celebrations once again this weekend, with a modern take on a historic theme.
The Market Place monument was built in 1887 to commemorate Queen Victoria's Jubilee.
It was famously bathed in lights and topped with a giant crown to mark the coronation of Queen Elizabeth II in 1953.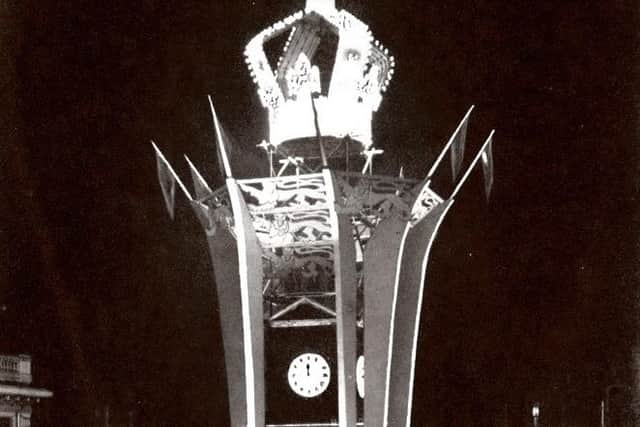 Seventy years on, the tower is to be the canvas for a coronation-themed projection.
The projection will extend Rugby's coronation celebrations into the evening. During the day, Caldecott Park will host a coronation party and screening of the coronation ceremony while there will be free family face painting at Rugby market and in Rugby Central shopping centre.
The night-time show will complement the commemorative coronation flags being flown by the William Webb Ellis statue on Dunchurch Road, and the union flag bunting currently decorating the town centre.
Tom Kittendorf, Rugby Borough Council Chief Officer for leisure and wellbeing, said: "Rugby's communities have always marked big royal occasions, and the current exhibition at Rugby Art Gallery and Museum features memorable photographs of some of those events.
"While in 1953 the borough had the British Thomson Houston works to help install 800 lamps, the tower is now Grade 2 listed and wouldn't be able to carry the fixtures and fittings needed to install a similar feature.
"I am thrilled that we have found a way to make the Clock Tower stand out as a landmark once again.
"I look forward to seeing the tower lit up for King Charles III."
The projection will shine onto the Clock Tower on the evenings of Friday, May 5, Saturday, May 6 and Sunday, May 7.
A new exhibition which looks back at past coronation celebrations in the borough can now be enjoyed at Rugby Art Gallery & Museum.
Items on display include photographs, souvenirs and programmes of events which took place throughout Rugby in 1937 and 1953.