Saddle up for a day of roarsome family fun in Rugby next month.
Rugby Bikefest returns to the town centre on Sunday, May 21, from 10.30am - 4pm.
The high-octane, free event is organised by Rugby First in conjunction with local motorcycling groups.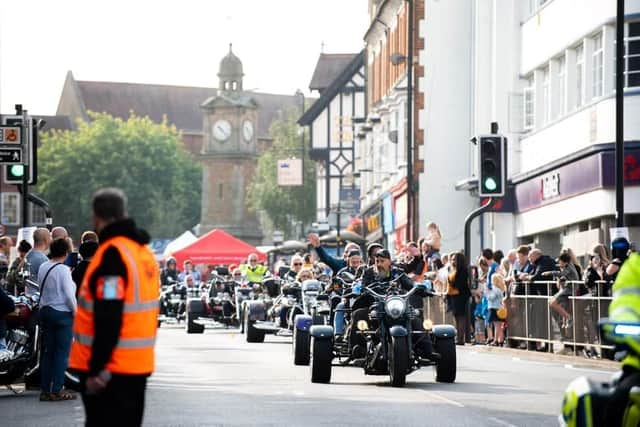 Whether you are a bike enthusiast or not, there is something to keep everyone entertained – a 'ride-in', bike displays, stalls, live music, children's activities, funfair and food.
The 'Ride-in' features hundreds of bikes creating a fantastic spectacle - along with a deafening noise.
There's an extreme battle stunt show and music in Market Place and Church Street.
Lots of stalls and displays offering a wide range of bike related goods, advice and clothing – bike enthusiast or not we will have something for you and the family.
There will be plenty of fun family entertainment including face painting, bouncy castles, circus skills, big wheel and children's games.
Rugby Bikefest, organised by Rugby First, attracts thousands of visitors of all ages.
Linda Lowne, Rugby First Business and Stakeholder Manager, said: "Rugby Bikefest is one of the most popular events in the town centre events calendar.
"It attracts thousands of visitors, from the local area and further afield, and creates a real buzz in the town centre. Many local businesses get involved with the event, and they see a significant increase in footfall and revenue on the day.
"As a result of the high-footfall the event provides great opportunities for sponsorship – if you are interested in finding out more please get in touch."
Organisers hope this year's event is going to be bigger and better than ever.
Linda added: "Finally, a big thank you to the local biking groups that support this event, as without their help, support, passion and enthusiasm it would not be possible to deliver such a successful event."
Younger Rugbeians are reminded to make sure they stay off the road and follow the advice of the event stewards until all the bikes are safely parked.