The Advertiser reported in November how Theo Paphitis – now only an occasional member of the programme's panel of high-profile business people – has shown a commitment to backing fledgling businesses through an online initiative.
Under the name of Small Business Sunday, he picks six businesses each week for a retweet to his to his huge social media following.
Back in the autumn he alighted upon Thurlaston‐based No Fuss Fill – which has a mission to encourage happy dogs and happy people, with a particular focus on helping the latter prepare and look after enrichment toys.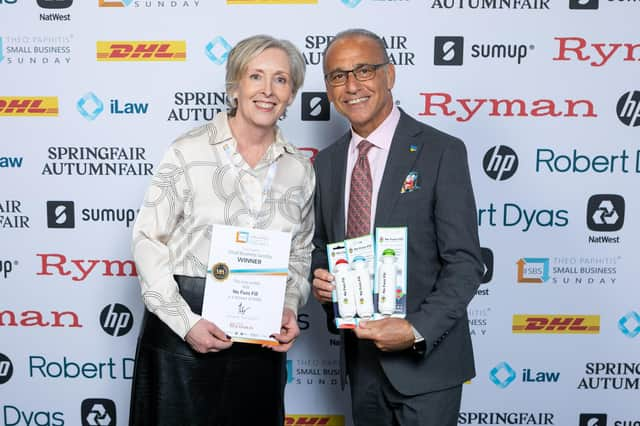 Tracey Powiesnik – widely known as Tracey P – tweeted Theo about her business during a Small Business Sunday and was one of six weekly winners.
This saw Theo re‐tweet her message and www.nofussfill.com saw a surge in followers and extra orders for the products.
And on February 24 she went to a special event at the ICC in Birmingham where she picked up a certificate from the great man.
Tracey told the paper: "It is such a great opportunity to be part of the SBS network.
"The event hosted by Theo at the ICC in Birmingham was inspirational, I met so many entrepreneurs and business owners and heard from industry speakers.
"Of course the highlight was meeting Theo himself and receiving my certificate."
She had previously said: "Running your own business is incredibly rewarding but when you are working on your own without a team it can be hard work.
"It is great to have support from Theo to help raise the brand profile.
"Theo has recognised my hard work and helped spread the word about what I do to his followers."
No Fuss Fill took off during lockdown when Tracey's 'day job' was on hold.
The website tells more of the story behind the brand, how the loss of a treasured pet inspires the business and, in addition to the products, also features a blog that covers a wide range of issues.