Warwickshire Police has started a week of activity to tackle knife crime, target offenders and help keep the community safe.
Taking place this week, Operation Sceptre will see officers carrying out a series of high visibility activity alongside partner agencies, raising awareness of knife crime and targeting those who carry knives and weapons.
People in Warwickshire are being urged to challenge friends and family members who think it is acceptable to carry a knife.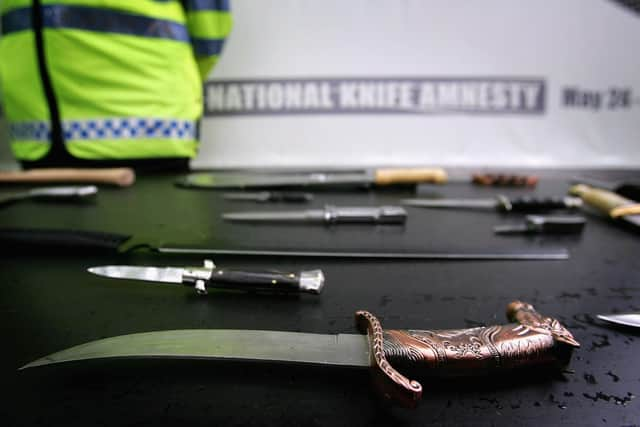 This is the message from Warwickshire Police's head of local policing ahead of Operation Sceptre.
Operation Sceptre is a national campaign that takes place twice a year that aims to reduce knife crime and raise awareness of the dangers of carrying a knife.
The operation, which runs this week, will see officers from local safer neighbourhood teams running a range of activities including targeted operations, engagement, and education events to discourage people from carrying knives, and help them understand it is safer not to carry a knife.
The message from Warwickshire Police is that there is never an excuse for carrying a knife. The force also recognises that quite often friends and family members are best positioned to challenge someone's decision to carry a knife, and as such they are encouraging people to have difficult conversations and take the difficult decision to report their concerns to police or a teacher.
Chief Superintendent Emma Bastone, head of local policing, said: "When someone takes a knife out with them, this is a conscious decision, and it is a decision that could impact the rest of their life.
"Having difficult conversations or reporting your concerns, whilst uncomfortable, could help to save someone's life.
"To put it bluntly, ask yourself this question: if you knew your friend was carrying a knife, and they used it to seriously hurt or kill someone, could you live with yourself, knowing you could have prevented it?"
"Telling someone's parents that you think their son or daughter is carrying a knife or having a difficult conversation with your child is better than the alternative; visiting them in hospital or going to their funeral"
"Telling a police officer a friend is carrying a knife is better that the alternative; seeing your mate getting stabbed or using it to stab someone else.
"Being a good friend or parent isn't always easy. Sometimes people need to hear uncomfortable truths. Please make the right decision."
Rugby's young people and their parents are invited to learn about knife crime at a special event in the town on Saturday (May 20).
Visitors can try VR at an 'inflatable police station' outside Asda from 11am – 4pm.