Rugby's new police commander has vowed to make radical changes to raise standards and make communities feel safe and listened to.
Chief Inspector Jim Rankin officially starts his new role on Monday at 7am.
And although he knows he has his work cut out, he can't wait to get started.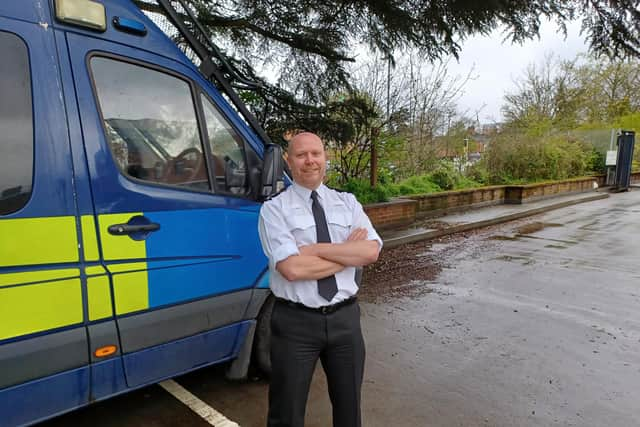 "I've had a few months to get the ship in order and I'm ready to get cracking," he said.
Chief Insp Rankin, 45, who lives in the borough and is a father of two children, said it's a 'privilege' to serve the people of Rugby.
"The borough hasn't had a police commander in post for more than a decade," he said,
"It's a privilege and an honour and I couldn't be happier to serve the town. I'm buzzing to get started."
Under his guidance, the new team will continue to work on ways on preventing, investigating crime and how they engage and communicate with local communities.
"I want to see more judicial outcomes," Chief Insp Rankin added.
"We want to address children carrying weapons and work really hard to reduce that threat. Rugby will have a new youth engagement officer to work with the schools and youth clubs in a bid to reduce this type of crime."
He said the town can expect more people being caught and punished for vehicle crime.
"Vehicle crime is a hot topic in Warwickhsire," he went on.
"We are working on proactively prosecuting people and target our investigative responses. This is an area Rugby can already hold its head high on."
With increased resources in the force – 1,100 cops - in the latest police shake-up, anti-social behaviour is another problem gaining more focus.
He said: "We've developed plans and strategies that will see higher visible partrols in the right locations at the right time."
Chief Insp Rankin said he is well aware confidence has been lost in policing.
"I'm aware of the feeling and I don't blame them," he said.
"It's going to be a challenge but now we will be running with the most cops the force has ever had."
"The young police officers are ready to get to work with motivation and enthusiasm. The public can be rest assured that
policing here just in Rugby is so much more than seeig bobies on the beat; it's as much about what we're doing in the background and we've got a really strong team who do ing a tremendous amount in the town.
"In recent years we've had nothing like our increased capacity; we've doubled in size and positive changes will be made."
The former Det Insp for Rugby has worked all over Warwickshire Police in a number of different roles. He has more than 20 years' experience working for the police.
"This is my opportunity to really focus with the additional resources I've got. My command team are all local people working towards really high standards."
And in turn, Chief Insp Rankin said he will work hard to bring out the best in his team.
He added: "I expect the highest of standards and they will learn to meet them pretty quickly.
"I'm not saying it's going to be easy, but it's an exciting challenge and we're ready to go."