'We will remember': Rugby students honour those who have died in line of duty
"My reading was Purple Poppy which highlights things about remembrance that people may not be aware of, such as honouring the animals which lost their lives in service"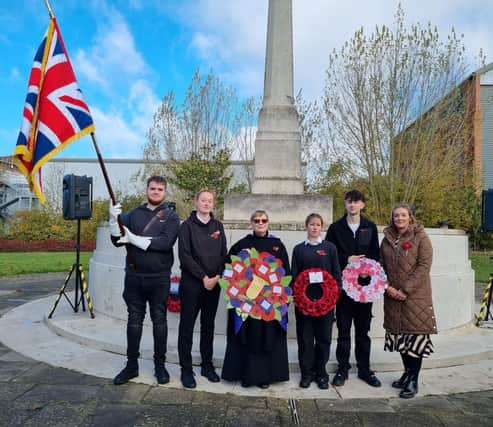 Students in Rugby have joined together with members of the community for a Remembrance Service to honour those who have died in the line of duty.
Public Services students from Rugby College held the service as part of an annual tradition dating back more than ten years.
A procession was held from the college to the British Thomson-Houston War Memorial, where 22 second-year students were joined by pupils from Boughton Leigh Junior School, colleagues from neighbouring business GE Power and members of the local community.
A service was conducted by Lesley Turner, a former long-standing Rugby College staff member, and poppy wreaths were laid at the memorial, with the college's wreath laid by Aaliyah Hussain.
A two-minute silence was also held, and school pupils and students Luke Kirkland and Lola Marsay performed readings to the crowd.
Luke said: "I was very proud to take part in the service and pay my respects, and it's excellent to be able to take part in events like this as part of our course.
"My reading was Purple Poppy which highlights things about remembrance that people may not be aware of, such as honouring the animals which lost their lives in service.
"I'm really enjoying the Public Services course at Rugby College. It covers a really broad subject area and has provided me with a lot of transferable skills for the future."
Tracy Gibson, Head of Department for Care, Early Years, Catering, Sport and Public Services at Rugby
College, said: "The majority of the students who took part have aspirations to join the armed forces or emergency services, so events like this will be prevalent in their future careers.
"It also fits in with our curriculum which explores what remembrance means to different services, including the emergency services which support in times of conflict, and highlights the different types of poppies and what they represent.
"Our military flag, which was carried by student Gabriel Gray, will now be used in an official parade at The Cenotaph."