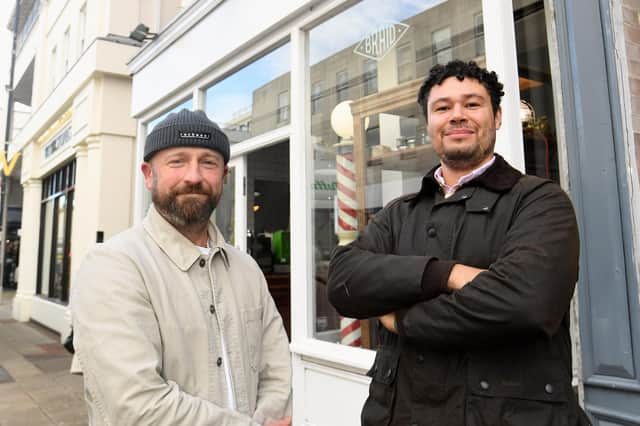 Two brothers who have spent more than half of their lives cutting hair are celebrating the 15th anniversary of their popular shop in Leamington.
Robert and David Braid set up Braid Barbers at 74 Warwick Street in 2007 - and now they hope to continue for many more years to come after signing a new lease with landlords The Wigley Group, extending their stay in the town for another 10 years.
David, 44, said: "It feels fantastic to have been in Leamington for 15 years and there isn't a better way to celebrate than by signing a new lease.
"We've enjoyed being in Leamington ever since we opened, and although the past couple of years have been more uncertain because of the pandemic, we've always felt the love here - whether that's been from The Wigley Group for their understanding and support during the pandemic and delaying payments when we've struggled, or the customers who have kept on coming back over the years.
"For me, in my 28 years of barbering, the thing that keeps me coming back is the customers.
"We welcome such a variety and I get a daily dose of inspiration from those who come in, so I would like to say thank you to all of our customers over the years."
The brothers have a long history of cutting hair, with David picking up his first pair of clippers aged 16, while 48-year-old Robert has been in the business since he was 18.
They opened their first shop in Banbury in 2003, with Leamington following four years later.
It follows a family tradition with their father Phillip launching the Braid Barbers name in 1970 with a store in Birmingham, before going on to launch further sites in Milton Keynes and London.
With the shop turning 15, the brothers are inviting customers to help celebrate their milestone anniversary with 15 per cent off haircuts Monday to Wednesday between November 21 and 30, when booked by calling 01926 338 350.