When life gives you vandals, make art: Rugby gallery staff keep calm and carry on after mindless attack
Business owners vow to continue uplifting work in town centre
Watch more of our videos on Shots!
and live on Freeview channel 276
Visit Shots! now
The defiant owners of a Rugby art gallery refuse to let the actions of one vandal bring them down.
Damage was caused to Art at the Alex, in James Street, on Saturday when the windows were battered with a hammer more than 20 times.
Six windows and a door will need to be replaced as a result of the damage.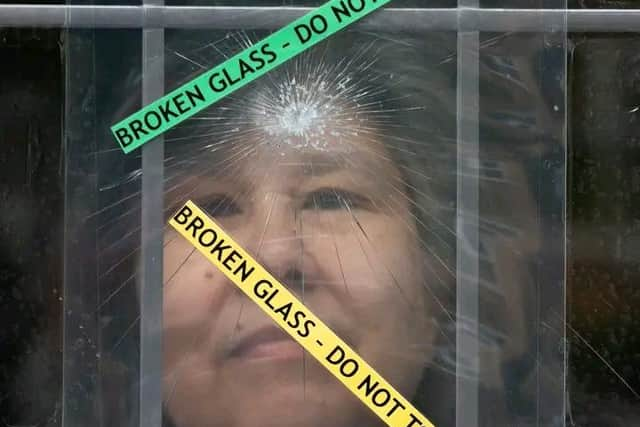 But husband and wife team Chris Pegler and Steve Davies want the people of Rugby to know, it's very much business as usual.
"We were fast asleep upstairs when the damage was done," said Chris.
"Our neighbour witnessed the attack. The police arrived very promptly and took statements and arranged boarding up."
Instead of closing up shop, the couple made the building safe and photographer John Thompson turned the damage into art.
Chris went on: "Meanwhile, one of the photographers who shows work here has been doing some art shots of the glass damage.
"We don't know why anyone would do this. We love doing business and living in Rugby town centre. It's a great place to be part of. We hope that people will understand that Art at the Alex has lots of loveliness going on inside even if the outside is, temporarily, a bit battered."
Art at the Alex is the personal retirement dream of Chris and Steve, who set up studios in Rugby with other local artists and makers. It's also part response to supporting and amplifying arts activity in the town.
The building started life as a Victorian terraced house before opening as a pub.
Chris said: "It's becoming a sort of 'Room of Requirement' for local artists. We have monthly exhibitions in our cafe gallery (currently we have main exhibition of stunning large watercolours by Jane Archer and a separate smaller show of smaller works by Gemma Whitford). We have handmade and locally designed work for sale in cabinets and Steve has his printmaking studio (lino and woodcut) up and running most days we are open. We hold large and small events where other artists and makers join us."
Their largest event will be later in June when 20 artists and makers will be in the main building, garden and outhouses.
Chris said: "We have a small cafe and lovely garden. We offer space for artists' meetings and once a month have poets and singer songwriters perform here.
"We are open to trying ideas that help the network members develop and which encourage arts activity in Rugby area. There are so many arts venues in town and we see ourselves as supplementing what they do. One early feedback comment when we opened was 'If Hay on Wye can be about books then why can't Rugby be about art?' We think and hope it can."
She said everyone has worked hard to get Art at the Alex off the ground.
Chris said: "It's upsetting to have this happen, but we have all worked hard to get the place up and running on a very small budget. We want to push forward.
"Currently this is a place which surprises visitors - in a nice way. In our second year we hope that it will become better known and more established."