I'm a Celebrity star and World Cup Winner Mike Tindall MBE joined fellow world cup winner Emily Scarratt MBE to kick off Rugby School's bicentenary celebrations on Sunday.
Mike, who was a member of the England squad which won the 2003 World Cup, and Emily, a World Rugby's Women's Player of the Year and the highest ever Red Roses points scorer in the 2020 Six Nations, took part in the first Global Pass, when 200 balls will be passed around the world.
Mike said on Sunday: "It's fantastic to be here at Rugby School, and to stand on the pitch where the game was created is iconic in itself. Being the bicentenary of the game it's great to be involved in something that's played such a big role in my life. Thanks to Rugby School and the sponsors who have given their time to help honour and respect the game that has given me so much."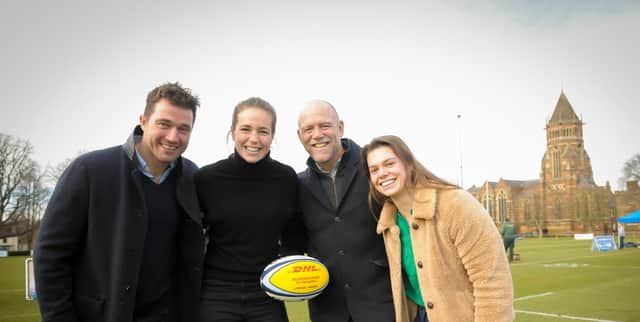 They were joined in the first ball passes by former Scottish rugby union centre player Alex Grove, who are all 2023 patrons*, Nigel Gillingham, President of the Rugby Football Union, The Rt Hon Stuart Andrew MP (DCMS Minister) and Peter Green, Executive Head Master of Rugby School Group.
More than 150 other guests took turns to pass the Global Pass ball before it joined the other 199 anniversary rugby balls to be sent by DHL to 200 rugby enthusiasts around the world to continue the bicentenary global pass.
Emily added: "It's really good to be here, at the birthplace of the game, that has meant so much to me. I was delighted to hear that Rugby School girls' team played their first match on The Close yesterday and that the next bicentenary match will be England v Wales U18s Women's International."