The Tritax Symmetry site has been on the cards as part of the Rugby Local Plan for some time but whatever the impact of printed plans, the first two warehouses have brought home the reality of just how big they are when you see them in person.
But a plan submitted to the borough council last week to update plans surrounding the main access road to the site, highlights three other warehouses already have approval behind the first two and each of them will be bigger than the current pair.
The application relates to the fact that the current B4429 Coventry Road link from the roundabout will be stopped up and a two-lane access to the Tritax will be built off the roundabout to run straight between the existing two warehouses.
A traffic-light controlled junction will create a right-turn running to the front of the right-hand one of the existing units, to rejoin the existing formation about where the current works access is.
The plan – reference number R23/0172 – is a routine part of the process but one of the attached documents, the Coventry Road stopping plan, both explains how the new road will work and is a reminder that the three units already approved are each bigger than the two we can now see. And considerably so.
It has previously been announced that Tritax has already done a deal for four of the units with Iron Mountain, which will create its first UK campus for its services there.
The US company has built a a global business dedicated to storing, protecting and managing, information and assets – and has recently taken on two huge warehouses at Magna Park North, its logo now being visible to drivers on the A5.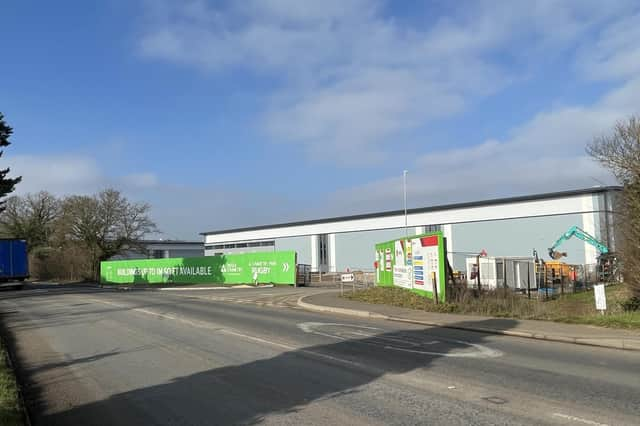 The plans show the three Tritax units yet to be built will be north of the Northampton Lane byway and stretch east, lining up with the Thurlaston village junction though a field back from the main road.
The Advertiser has approached Iron Mountain for an update on its plans.