Young footballers in Rugby are sporting brand new kits thanks to a slice of funds from the Helping Hearts cash awards.
More than £5,000 has been handed out to a raft of charities and community organisations in
the latest round of the Heart of England Co-op's Helping Hearts Award Scheme.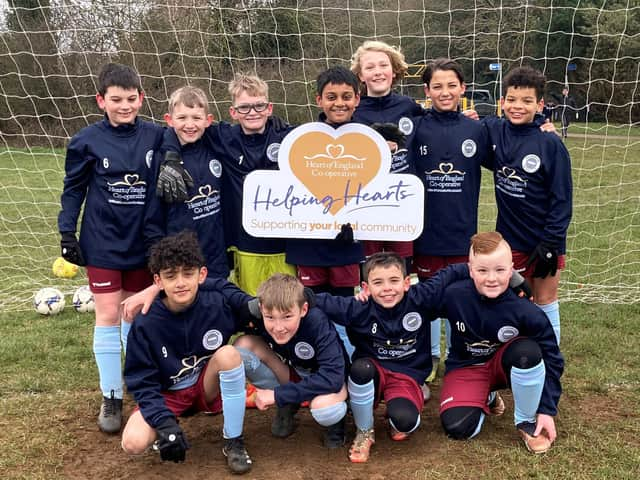 Hillmorton Football Club's under 11s Colts netted one of the largest awards of £500 to buy new kit.
Manager of the team Scott McDonald also received a new raincoat in the club's colours, thanks to the
He said: "We were only expecting a small donation and so to get £500 was fantastic. We're a new team and many of the lads had never played football before. They really look the part in their new tops."
The Colts are part of a club with a rich history. Hillmorton FC was founded in 1969 by a group of
parents who decided to organise an informal game of football at Merton Recreation Ground. The
enthusiasm of the youngsters on that day prompted the group to enter two junior teams in the
Rugby and District Junior League which was founded in the same year.
It has gone from strength to strength since then and now boasts 28 separate sides, from children
aged under six to full senior teams.
Hundreds of youngsters have come up through the ranks over the past 54 years and many cups and
Scott said: "It's far more about the love of the game rather than winning every match."
More than 30 community organisations have benefited from the latest Heart of England Co-op handouts including the Rugby Borough Jaguars under 9's team and Southam St James C of E Academy was gifted £500 to help build an outdoor eco shelter.
Other recipients are Buddy Bag Foundation (£250); Friends of New Bilton (£250); Rugby Round Table (£250); Crick Scarecrow Festival Committee Rugby (£250); Towcester Choral Society (£250); Harbury Myton Hospice Support Group (£200); Henry Hinde Junior School PTA (£200); Rugby Veterans Group (£200); St Marie's Parish (goods worth £200);
Teams4U Charity Stretton on Dunsmore (£200); Brownsover and Christ Church Community Association (goods worth £200); Rugby foster care (£200); Southam and District Lions (£150).