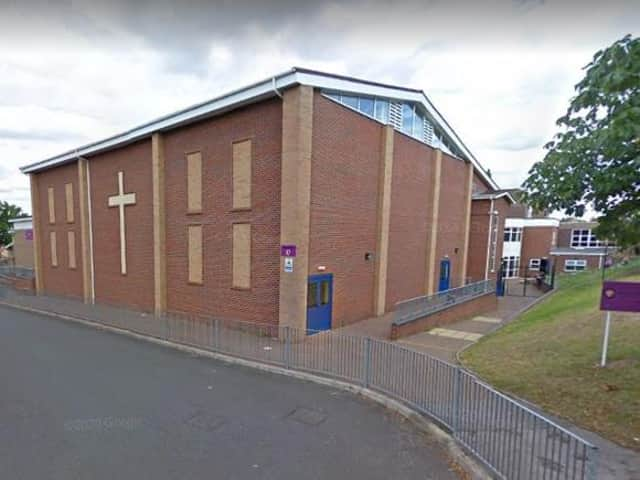 Trinity School in Leamington.
Warwickshire County Council is set to pay out more than £1m to ensure that a troubled Catholic school in Leamington can become part of an academy run by the Birmingham Archdiocese.
An application to transfer Trinity School, in Guy's Cliffe Avenue, will be made to the regional schools commissioner next week ahead of a consultation period in September. The school could then become part of the Our Lady of Lourdes MAC in January.
Members of the county council's cabinet meeting tonight (Thursday) heard from three members of the public unhappy with the current situation at the school which has had an interim executive board (IEB) in place for nearly two years.
And although cabinet approved plans to move forward with the changes, a number of councillors added their concerns.
Cllr Helen Adkins (Lab, Leamington Willes), whose children go to the school, said: "I think it has been a complete mess right from the word go.
"There have been so many mistakes. The IEB was introduced perhaps too quickly, it stayed too long, was aggressive, heavy-handed, it dismissed the parents' views and it dismissed the pupils' views. It didn't take on the ethos of the school and slowly eroded it.
"There have to be lessons learned from this. The way we use IEBs has to be looked at and I think we also need to be thinking about retaining the positives of somewhere even if they are in financial deficit.
"The portfolio holder has to take some of the responsibility for the mistakes and we shouldn't dismiss what the speakers have said. They know Trinity, they know their kids and they know the staff members."
Cllr Bill Gifford (Lib Dem, Leamington Milverton) added: "I have great sympathy towards the loss of the ethos of the school. In the past it had a liberal Catholic ethos which actually encouraged the students not just to think but to question and that is something that has lasted them through their lives."
A report to the meeting outlined conditions demanded by Our Lady of Lourdes MAC and these included the county council taking on the school's deficit which was £1,039,274 at the end of March.
Cllr Colin Hayfield (Con, Coleshill South and Arley), the portfolio holder for education and learning, said there had been extensive work to resolve the ongoing financial issues.
He added: "Trinity School has been an area of concern for us for a number of years. The recommendations today are really important because I think they offer a fresh start to Trinity as an academy school within the Birmingham Archdiocese.
"There have been a lot of difficulties over the years - a lot of discussion, a lot of angst and a lot of accusations one way or another. This offers a really great opportunity for the school to get a fresh start for the best interests of the pupils."