Horrible Histories to present gag-filled gallop through British past at Rugby's Festival on the Close
The festival team has donated 50 Horrible Histories tickets to Ukrainian families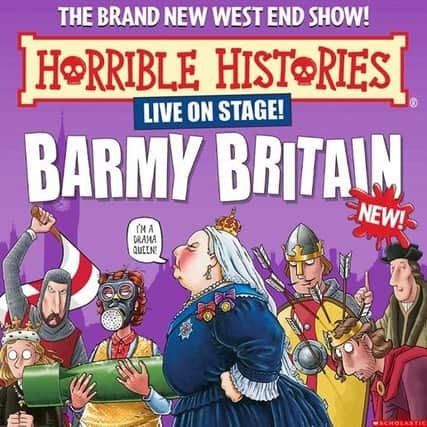 House-hunting with Henry VIII, breaking into Buckingham Palace and hiding from monarchs are some of the wacky stories regaled to audiences when the Horrible Histories crew gallops into Rugby.
The comedy team's hit West End show, Barmy Britain, is coming to The Festival on The Close on Tuesday June 27, with thanks to Macready Theatre and Rugby School.
Described as 'history with the nasty bits left in', the show is a gag-filled gallop through British history with two actors playing multiple roles.
Will you be conquered by William? Will you sink or swim with King Henry I? Go house hunting with Henry VIII! Break into Buckingham Palace and hide from the Queen Victoria! These are just some of the fascinating true stories audiences will discover during the hour-long show that was a hit in London's West End in 2021.
Barmy Britain is written by Neal Foster based on Terry Deary's bestselling Horrible Histories books, which celebrate their 30th anniversary this year. Terry Deary is the world's bestselling non-fiction author for children and one of the most popular children's authors in the country.
The festival team has donated 50 Horrible Histories tickets to Ukrainian families who are under the support of Community Welcome CIC, a volunteer run organisation based in Rugby.
Spokeswoman Catherine said: "My heartfelt thanks for this. It is fabulous that the families can have some well-deserved leisure time with their children and make happy memories. It's a wonderful gesture and we're really looking forward to the performance."