Plans unveiled for Rugby's former Pathfinders Nursery building
Work is expected to begin shortly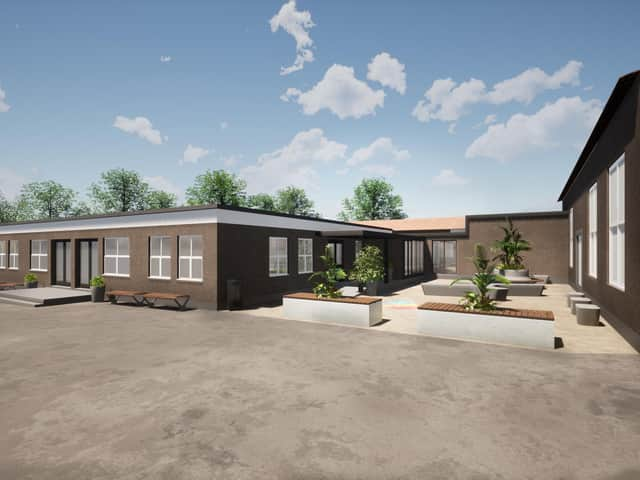 How the building will look.
Rugby s Crescent school has unveiled plans to transform the building which used to house the popular Pathfinders Nursery.
Steve and Alison Dyke had leased the building from Bilton's Crescent School since 2015 - with the nursery proving very popular and achieving an Ofsted 'Outstanding' rating.
But pressures from the lockdown forced the couple to shut the nursery - making an announcement in February this year and explaining in the eight weeks that followed the announcement they would be shutting for good.
Planning permission has now been granted for the school to transform the building into extra facilities for Crescent pupils.
Work on the 250m2 building, which was previously leased to Pathfinders Nursery, will begin shortly and will be completed before the start of the next academic year.
Plans for the building, which will be known as the Horton Centre, reflecting the school's origins on Rugby's Horton Crescent, have just been unveiled to parents and pupils.
Headmaster Joe Thackway said: "Our vision for the Crescent is for it to be a small but perfect preparatory school.
"Part of our development strategy over the last few years has been to upgrade and update our facilities.
"This has been constrained by our site and the desire to maintain the outdoor space we have for sport and recreation.
"We now find ourselves in the unique position of being able to significantly enhance our facilities for the benefit of the whole school community.
"The Horton Centre will house a classroom for our Year 2 children, a flexible space for the performing arts and our before and after school wrap around care will benefit from a new home."
The Crescent is a 4 to 11 co-educational independent day school, which forms part of the Princethorpe Foundation.
The school has an open evening planned for Thursday May 27, where, by appointment, visitors will be able to tour the school in a socially distanced way and speak to members of staff.
For more information contact, Helen Morley, Registrar on 01788 523851 or email [email protected]