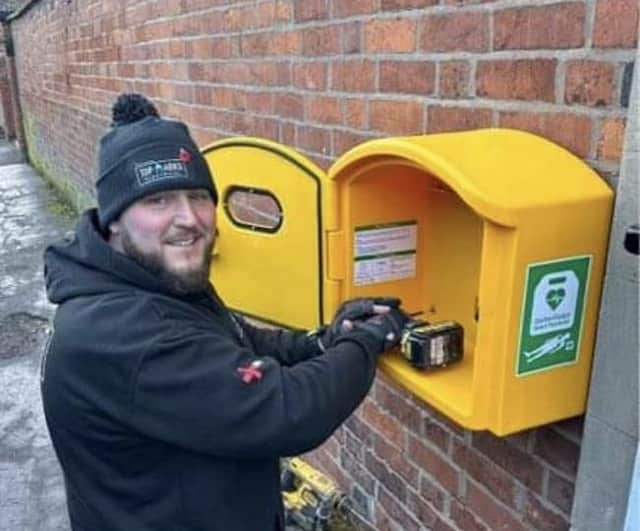 A Rugby mum has hit the £56,000 fundraising mark and launched the 25th life-saving defibrillator in memory of her 'inspirational' son Jamie.
Naomi Issitt, 43, has also paid for eight portable machines which are carried by tradesmen and hauliers.
She is keeping her teenage son's memory alive after he suffered a cardiac arrest on New Year's Day last year while out with friends.
An informative app has also been launched this week as part of the 'Our Jay' campaign.
Naomi said: "We are truly blown away by the support we have received for our boy.
"We are currently on 25 defibrillators installed, with 13 more being installed over the coming days. We have also donated a pitchside defibrillator to Lawford grass roots football teams, which we think is also vital."
The mum wants to prevent another family going through the heartache she has suffered since losing 18-year-old Jamie.
"I would like to thank Top Marks Electrical in Rugby who have installed more defibrillators free of charge," added Naomi.
"These life saving pieces of equipment will be registered on The Circuit and emergency ready."
She said funding for some of these defibrillators was donated by Freddie's Wish - Warwickshire.
"We are so grateful for such a kind donation and we are so pleased that this donation could be put towards defibrillators in such great locations.
"Our inspirational boy continues to make huge changes and we are so unbelievably proud of what he is achieving."
Lewis Marks, who owns Top Marks Electrical, said: "I try to put one day a month aside for charity work along with my apprentice Matthew. We do it to give something back and being a firefighter I know how imperative these bits of kit are if used quickly as I've used them a lot in the past."
OurJay web app goes live at 2pm today (Wednesday, January 18).
Naomi said: "There's lots to see within the app, including OurJay defibrillator map, upcoming events, updates, donation page, merchandise shop, and meet the team."
"Rugby businesses and people have been amazing and I think it's such a huge town spirit to make us all heart safer in memory of Jamie."