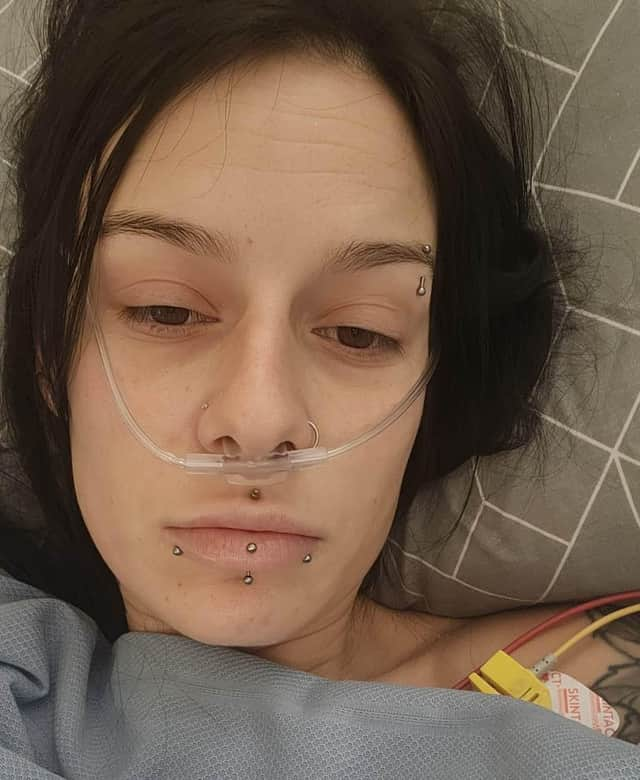 A Rugby mother who has six young children said she is lucky to be alive after a smear test picked up cervical cancer.
Daniielle Saunders, 30, is now urging other girls and women to never ignore cervical screening tests.
"Thanks to my smear, I'm here and I've been given a second chance at life," she said.
"My advice to girls and women is don't be scared and don't feel embarrassed; that one smear could save you from death."
The devoted mum is now recovering at home after a five hour operation at University Hospital in Walsgrave nearly two weeks ago.
Danniielle had a radical hysterectomy, which involved a vertical incision and 28 staples.
"They opened me up like a book and I was terrified I was going to die on that operating table," she said.
"I had my cervix and surrounding tissues, neck of the womb, some of the top of the vagina (internal stitch put in), lymph nodes, tubes and uterus removed. They had to relocate my bowel and push my ovaries up into my abdomen (I've kept my ovaries hoping they will delay menopause) in case I need further treatment."
Daniielle is now encouraging others to go for a smear test. She was due for one in 2020 but it was postponed due to the coronavirus pandemic.
She was later diagnosed with cervical cancer after losing two more babies in pregnancy.
Daniielle, who is married to Owen, said: "Hearing those words that you have cancer is like a nightmare. Before my operation, which was nearly two weeks ago, I didn't sleep. I felt sick all the time and had bad anxiety.
"I'm trying to stay positive, but it consumes your life. I don't want another person going through what we've been through as a family."
She went on: "It's heartbreaking I can't have any more children and losing two before this diagnosis, but I am incredibly blessed that I have my six beautiful children. I believe the second girls are sexually active there should be smears available to them because people are dying."
Daniielle said symptoms don't always show up, so getting screened is vital.
She said: "Do not think it won't or can't be you. Symptoms are not always there to show you there is a problem.
"I know pictures of my surgery are shocking, but I won't apologise for telling the truth about cancer. If my story can help save just one person, then I've done my job."
Daniielle wants to educate people that cancer is a journey.
"I'm fed up of people thinking I'm now cured," she said,
" No. I've now got five years of checks now for the all clear. I've got my friends and amazing family and we will get through this."
The main symptom of this type of cancer is unusual bleeding from the vagina. Finding changes in the cells through screening can help to prevent cancer developing.